Injuries on the Airport Operations Area (AOA) Require Prompt Notice
Frequently airline employees who have been injured on the "Airport Operations Area" mistakenly believe that if they report an accident to their employer, or their employer's insurance company, that they are "covered" under the Virginia workers Compensation Act.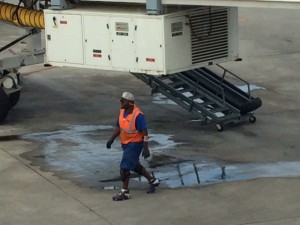 Unfortunately, this is not always true. While Virginia law requires that prompt "Notice" be given to the employer (or their insurance company), The Act also mandate that the employee timely file a claim for benefits with the Virginia Workers Compensation Commission (The "VWCC"). To put it another way, just because an injured airport worker is getting compensation payments, does not mean that the government knows about the runway accident or that the claim has been timely filed.
It is incumbent upon the injured airport worker to file a claim.  Many prefer to get experienced legal counsel to do so. Evidence tends to suggest that when an injured airline or airport worker gets legal counsel EARLY in the case, that the claim is filed properly and later complications are avoided. Herndon airport injury lawyer Doug Landau has had to turn away permanently injured airline workers who failed to give notice of their injury or file their workers compensation claim within the Statute of Limitations. This legal time limit can eviscerate an otherwise viable workers comp claim. "The claim is not a lawsuit, and there is no filing fee," adds lawyer Landau. "However the deadlines are quite strict, and claims have been lost because of the failure to timely reporting injuries and file Applications with the Workers Compensation Commission."
If you or someone you know or care for has been injured as the result of an accident on the job while working at an airport or for an airline, and there are questions about what laws apply, e-mail or call us at ABRAMS LANDAU, Ltd. (703-796-9555) at once.