Gaithersburg Airplane Crash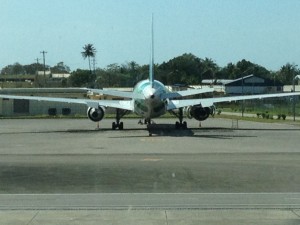 The unthinkable has happened again.  A small plane has crashed into a home situated near an airport.
However, unlike an incident in Chicago a few weeks ago, in which the pilot was killed but the elderly residents of the home he struck escaped injury, the December 8 crash of a plane into three homes near Montgomery County Airpark in Gaithersburg, Maryland resulted in the death of six people — the pilot and two passengers aboard the plane, plus three residents of one of the homes struck.
The plane's black box (which is actually orange) was recovered and is being studied in the crash's investigation. Early reports from the National Transportation Safety Board (NTSB) indicate an aerodynamic stall occurred, meaning a disruption in airflow over the wings which prevents the wings from supporting the aircraft.  All four corners of the craft have been recovered, providing evidence the plane was fully intact when it struck the homes.  The plane will be painstakingly reassembled so as to try to discover exactly what caused this tragic crash.
Herndon airport injury lawyer Doug Landau has flown privately out of the Gaithersburg area airport several times, in order to try cases for clients throughout the East Coast.  The Maryland County Airpark, which is the home base for crafts flown in and out of other local airports including Leesburg/Loudoun County and Manassas/Prince William County airports, is a small, yet conveniently located airport near our nation's capital.  Lawyer Landau has flown planes hangared in Gaithersburg to North Carolina, West Virginia, Tennessee, New York, South Carolina, New Jersey and the SouthWestern corners of the Commonwealth. Flying to remote court houses with your own pilot and aircraft means you NEVER miss your return flight !
In addition to the military airports in the vicinity of our Nation's Capitol, there are a number of small, private airports in the Washington DC metropolitan area. As Gaithersburg is right around the Capital Beltway from the Herndon office of the Abrams Landau law firm, this accident feels close to home. Our hearts go out to the families of those killed in this unfortunate aircraft disaster.
If you or someone you know has been injured in an accident at or near an airport, and there are questions as to what laws apply, email or call the experienced airport injury law firm of Abrams Landau, Ltd. at once (703-796-9555).