Mediating Airport Injury Cases: Virginia Workers' Compensation Commission Gets Four New Mediators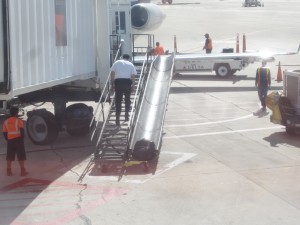 The Virginia Workers' Compensation Commission (VWCC) recently announced that the Virginia Supreme Court has certified four new mediators for WCC in 2014.  The newly minted mediators will offer an expeditious and efficient alternative to litigation for the resolution of workers' compensation disputes.
The VWCC provides Mediators FREE OF CHARGE.  Furthermore, even if the on the job accident occurred at an airport far from the Washington DC area, if the worker was hired to work out of Washington Dulles or National Airports, then the case may be heard here in the Commonwealth, in Northern Virginia.
The new VWCC Mediators are:
Hon. Angela F. Gibbs — was appointed to serve as Deputy Commissioner to the Richmond Office in 2013 and has practiced almost exclusively in the area of workers' compensation, most recently with the insurance defense firm of Midkiff, Muncie & Ross, P.C.
Lauren M. Jill, J.D. — has been a staff attorney for the Virginia WCC since 2008 and spent time interning with two circuit courts in Virginia, the Virginia Office of the Attorney General, and the Virginia Employment Commission.
Hon. Robert M. Himmel — was appointed to serve as Deputy Commissioner to the Roanoke Regional Office in 2013 and spent 17 years in private practice, specializing in Virginia workers' compensation cases.  He has spent the last seven years focusing primarily on appellate litigation before the Virginia WCC and Virginia Court of Appeals.
Hon. Terry L. Jenkins — was appointed to serve as Deputy Commissioner to the Virginia Beach Regional Office in 2012 and served as a Nurse Corps Officer in the United States Navy before receiving his Juris Doctor degree.  He spent time in private practice representing individual and corporate clients in civil litigation, focusing on medical malpractice and workers' compensation litigation.
What is Mediation?
Mediation is an alternative dispute resolution (ADR) process in which a trained neutral mediator facilitates communication between parties and, without deciding the issues or imposing a solution on the parties enables them to understand and to reach a mutually agreeable resolution to their dispute.  It helps the parties understand and recognize their underlying needs, overlapping interests and areas of agreement.  In Virginia the mediation process is voluntary and confidential.  (Source: Virginia Workers' Compensation Commission Press Release)
"This is great news for our injured airline pilot and ground crew clients, as we have had great success resolving their cases through mediation," notes Herndon area airport injury lawyer Doug Landau.  "The bios of the newly selected mediators are impressive, both because of their notable experience in the Virginia legal system, but also because of their extensive backgrounds in workers' compensation.  Mediation can be a wonderful tool to bring justice for an injured airline worker."
If you or someone you know has been injured at or near an airport and there are questions as to what laws apply, email or call Abrams Landau, Ltd. at once (703-796-9555).