Changes Afoot at the Landau Law Shop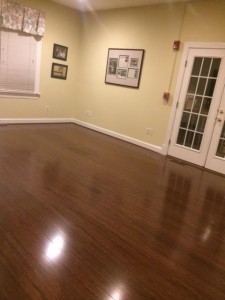 At the Herndon law firm Abrams Landau, Ltd., clients may have noticed several cosmetic changes.
The construction in the conference room is complete, and the room now has a dark hardwood floor as well as a new conference room table.  Our new chairs are on wheels in order to be more comfortable for clients who may have had difficulty with the prior furniture.
Since attorney Doug Landau does not like for clients to be kept waiting, we have moved the reception area closer to the intake section and Beatrice Vargas' workstation.
This means the original parlor is now Dianna Meredith's work area where she handles Workers' Compensation and Social Security disability claims. Her highly organized and efficient workspace has its own set of doors that can be closed in order to better protect client confidential information.  So now when Dianna is on "hold" with the Federal Government, the Workers' Compensation Commission or the Social Security Administration, she can maintain our clients' privacy while using the speakerphone.
These changes, overseen by bookkeeper Melissa, also mean there is more actual work space in the conference room, allowing us to bring in additional computers for clients who may not have computers at home.  This will mean that disabled clients who do not own their own laptops  can begin the Social Security administrative claims process online at our office or answer pre-trial discovery without time consuming re-writes .
Next time you're in the area, please stop by and let us know what you think of the changes afoot at Abrams Landau, Ltd.  As always, your suggestions are always most welcome.  You can reach us by email or phone (703-796-9555).