Who Dumped Momma from the Plane?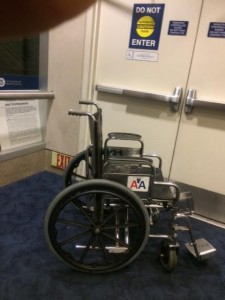 When an elderly parent or disabled family member is traveling through the major international airports, and there is an accident resulting in injuries or a worsening of an underlying condition, who is responsible?
At most airports there are people who push wheelchairs through the "sterile area" of the terminal.  Sometimes, they are wearing uniforms that match the airlines (e.g., United, American, Delta, etc.).  Other times, however, it appears their uniforms are from a completely different company.
If one of these wheelchair attendants makes an unsafe decision, is careless in pushing one of your family members or travel companions, is it the airline's responsibility?  Will the company that employs the wheelchair attendant be ultimately liable?  Or is it the Airport Authority on whose property the accident occurred who must pay for the losses?  Is it some combination of the above?
If the accident occurs at the curb, the company that employs the wheelchair attendant may be the responsible party.  Once inside the sterile area of the terminal, or out on the Air Operations Area ("AOA"), then the traveler is presumed to be in the course of his or her trip, and if he or she has a ticket with a particular airline, that airline may ultimately be the responsible party.
Many international airports have indemnification agreements and other contracts that basically say, "if we are sued because someone is injured during a trip, and brings a lawsuit, the airline must pay for our attorney fees, legal expenses, and potentially a verdict."
This is because airlines are considered a "common carrier," and common carriers owe their customers — the traveler — the highest duty of care.  This is the same as the legal duty required of a public bus, train, or other conveyance for hire.  So in cases handled by the Herndon Virginia airport injury law firm Abrams Landau, the airline with which the injured family member has a ticket, as well as the company employing the wheelchair attendants, are named in a lawsuit. The Airport Authority may be named, but as mentioned above, usually there is an indemnification or other contract in place to release them of responsibility.
If you or someone you care for has been harmed while traveling to or in an airport terminal, getting on or off an airplane, or injured while flying in a jet, please contact us at Abrams Landau, Ltd. by email or phone (703-796-9555).