Florida Flight Attendant's OnBoard Injury Case Flips 180 Degrees In Manassas Virginia Workers Comp Hearing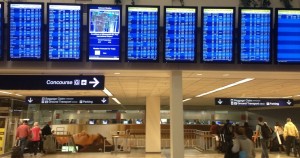 After the airlines refused an injured flight attendant's doctor's request to surgically fix a screw that had come loose in her shoulder, the company's insurer told her they were closing her file.
The young Florida woman, who flew out of Dulles International Airport ("IAD"), proceeded to hire ABRAMS LANDAU upon the recommendation of a Pensacola lawyer.  The airline's workers comp insurance company sent her to a doctor of their choosing, who opined there was nothing wrong, and the comp carrier terminated her indemnity (wage loss) benefits.
Instead of just moping around the house, this single mother got a part-time (and then a full-time) job at a local bank performing duties that were within her restrictions and would not worsen her shoulder condition.
The insurance company's private investigators followed this young woman and her family, photographed her, got into her online accounts, and edited pictures to make it seem as though she was doing more than the doctors would allow her to do. The insurance adjuster filed an Application for a Hearing to cut off all benefits with the Virginia Workers Compensation Commission ("VWC"), accused the flight attendant of insurance fraud, demanded that she pay them money, and filed a pile of documents and photographs the size of a small phone book !
The airline's workers compensation company referred this woman to their "Special Investigations Unit" for fraud, and were hell-bent on going after this former flight crew member and making sure she didn't get another dime from them. The insurance company lawyers sent her Interrogatory questions to be answered under oath, Requests for Production, and then demanded her deposition, during which she was interrogated by a seasoned insurance defense lawyer for the Airlines.
So what happened in Court in Manassas, Virginia ?
The claimant, who had spoken with Herndon injury lawyer Doug Landau several times in order to prepare her Discovery responses and Deposition testimony, finally got to meet her legal counsel at the ABRAMS LANDAU "Law Shop."  They drove together to the Sudley Tower Hearing site for the Hearing that went in a direction almost completely opposite what the Airline's insurance defense lawyers had planned !  As a result of her counsel's best efforts, the Deputy Commissioner will be issuing an Order calling for the insurance company to do the following:
Pay the injured airline employee for those weeks where her earnings were LESS than what she made while flying;
Pay for the flight attendant's repair surgery;
Pay the airline flight crew member for her trips to the doctors, therapists, hospital, diagnostic testing, etc.;
Pay the flight attendant for the time she has been off since the most recent surgery to repair the screw in her shoulder.
In addition, lawyer Landau's client will get a Cost of Living Adjustment ("COLA") payment on her accumulated compensation payments, as well as on ongoing Temporary Total Disability checks.
"The resumption of this airline client's medical care and her wage loss benefits were imperative in getting her back on the road to recovery," noted lawyer Landau. "It was the best result we could have hoped for in light of the original allegations against her and the evidence in the official VWC file."  Now recovering from surgery in a sling, the airline flight attendant remarked after the Hearing that she wished she had contacted Mr. Landau much earlier in her 2012 flight injury claim.
If you or someone you know or care for has been injured as the result of an airport terminal, airplane, deplaning, runway or other air travel related accident and there are questions about what laws apply, e-mail or call us at ABRAMS LANDAU, Ltd. (703-796-9555) at once.