Bombardier C-Series Aircraft's Pratt & Whitney Engine May Require Additional Testing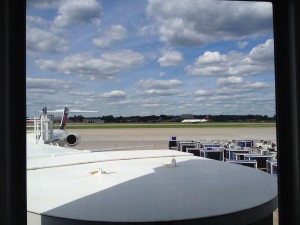 During test runs of the Canadian firm Bombardier Inc.'s CSeries aircraft in May of this year, a sudden loss of power and engine failure prompted the aircraft maker to suspend testing. The engine was disassembled for an in-depth review by its maker, Pratt & Whitney, and Bombardier hopes to get back on schedule soon with testing of its $4.4 billion jetliner.
Upon initial review, Bombardier is pinning the May 29 engine failure on a a problem with the low-pressure turbine (LPT) rather than the engine's gearbox.  A faulty LPT would constitute a manufacturing defect rather than a design flaw; this would be better news than a design flaw which would impact many other aircraft that use the same component.  Most articles about the incident include mention of how a potential design flaw and delayed testing schedule are impacting Bombardier's share prices.  Notably, after the Bombardier spokesman downplayed the problem as a manufacturing defect, share prices went up, after having initially fallen immediately after the incident.  While executives at large  jet and aircraft component part manufacturers not only have to be aware of compliance with governmental regulation, they are extremely sensitive to their stockholders and the bottom line.  However, "rushing jet craft to market may prove penny wise and pound foolish.  More importantly, exposing the public to needless danger could lead to catastrophic consequences," according to Dulles and Reagan National Airport area lawyer Doug Landau in Herndon, Virginia.
In Canada, aircraft must log 2,400 hours of testing to receive Transport Canada certification.  The CSeries has completed 330 hours — well short of what is required.  Product testing — particularly for aircraft — must be extremely thorough in order to protect the safety of aircraft crews, passengers, and the public in general.  Virginia airport injury lawyer Doug Landau notes, "It is critical that all the necessary testing of aircraft and aircraft components occur — without regard to stock prices — to ensure safety."
If you or someone you know has been injured in an accident in an aircraft, lost a loved one in a jet crash or at an airport and there are questions as to what laws apply email or call the experienced airport injury law firm of Abrams Landau, Ltd. at once (703-796-9555).