"Aero Airplane" Lands in Colonial Beach Corn Field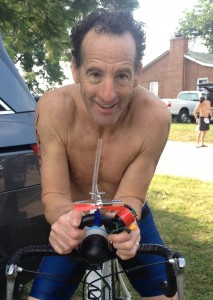 Cruising at a comfortable speed, passing others on his right, Doug Landau had nearly finished Sunday's ride when, without any warning, his new silver airplane took off and landed somewhere in a corn field in Colonial Beach.  Lawyer Landau had received the toy plane from his daughter for his July 4th birthday, and he had mounted it on his triathlon aero bars for racing in this past weekend's Virginia Triathlon Series events.  The plastic plane's propeller whirled as Landau travelled at over 20 mph, drew smiles from competitors, volunteers and officials.  Together with his "safety bell," Landau's bike stood out from all of the others that were racked by the Potomac River.
During the Sprint Triathlon on Saturday, the Herndon Virginia injury lawyer was able to best nearly the entire field once on dry land.  He passed riders throughout the bike portion of the race, and then still more triathletes during the flat and fast "out and back" run.  On foot, Landau averaged under 7 minutes per mile in the heat in order to break into the top 20 after a very slow swim that put him at the back of the pack.  Despite the slow start, his fast finish (and his airplane !) propelled him to the Age Group win and a place on the podium.
At Sunday's "AquaVelo" (or AquaBike), Landau would only be swimming and biking the full Olympic distances.  In the Potomac, Landau struggled with the currents and visibility.  Finding himself well back in the race, he decided on new goals: to break 75 minutes for the 24.8 mile ride and to pass 100 other bikers.  Landau caught #100 in sight of the finish line and managed to bike in under 69 minutes !  In the AquaVelo event Landau's time was good enough for 3rd overall.  However, at about mile 22, his new model airplane came off of its mounting on his handlebars and flew off into a field.  Hopefully a replacement will be mounted on his racing bike soon.  In the mean time, he will have his bell, which he rings in order to pass other cyclists safely, at this weekend's USAT DUathlon National Championships in Minneapolis/St. Paul, Minnesota.  There, lawyer Landau will compete with the best Run-Bike-Run specialists in the country, with the top finishers qualifying to represent the USA at the World Championships in 2015.  Landau's goals: no concussions this week and to make the US  Worlds Team.