Better safety for Airport Ground Crews ? (part 1)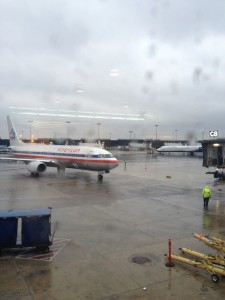 Ever watch the airport runway workers with the orange wands signaling to a huge jet so that it can get in to a gate ? Airline pilots at Los Angeles International Airport ("LAX") have parked jets in exactly the same way for decades. The airport marshals with the orange glow sticks could be seen in all kinds of weather guiding international aircraft through the network of gates. When traveling this week from a law conference in San Francisco to Los Angeles, Virginia airport employee lawyer Doug Landau noted that a new system was being used. At the new Tom Bradley International Terminal an automated system that uses lasers and lights to escort airplanes to parking positions has been installed. No sticks required !
The Los Angeles Daily News reports that "SAFEGATE," the automated computer and laser-guided system, directs planes to the gates at the new LAX Terminal. The technology replaces men with lighted wands, but only to a degree. The process is efficient, but it does not necessarily lead to reduced number of airport and airline employees on the "Airport Operations Area" ("AOA") according to Frederick Roe, a Safegate vice president based in Connecticut. Airlines and airports that install the laser guidance system still ensure that 3 employees meet each arriving jet, just as they did before Safegate. Two airport runway workers typically walk next to the wings to make sure the plane does not collide with ground equipment. Damage to the jet's wings can ground it for a long time. The third AOA worker in a typical airport runway system would guide the plane in, and now prepares to "chock" the wheels. The "chocks," (the large rubber wedges), ensure the planes do not roll.
Having the ground crew in place is vital to protecting airplanes and airline passengers. "People don't realize that there are more ground accidents — perhaps 10 times more — than air accidents," said Ross Aimer, a retired United Airlines captain and chief executive of Los Angeles-based Aero Consulting Experts. He added, "Things happen a lot more on the ground than in the air. People are in hurry. There are baggage cars everywhere. There are many incidents where airplanes run into Jetways or into each other. It's pretty embarrassing." While there are special rules on the AOA, Airport injury lawyer Doug Landau notes that even these "pecking order" procedures (i.e., outgoing jets have priority over inbound craft, large international craft over food trucks, etc.) do not eliminate accidents on the tarmac. There are, however, situations in which Safegate provides extra benefits for airlines. Read about these in tomorrow's post.