Better safety for Airport Ground Crews ? (part 2)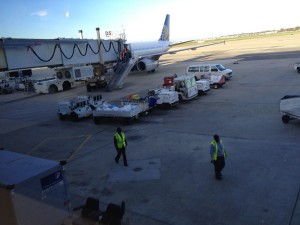 The Safegate Aircraft Docking Guidance System is being implemented at Los Angeles International Airport to increase runway safety and efficiency. SAFEDOCK is a fully automatic system based on a laser scanning technique that tracks jets taxiing into the terminal. This new system uses a laser to identify and guide aircraft types to an accurate stop position. One instant benefit is that this automatic docking eliminates any delays by marshalls with the orange wands. The laser system does not do away with the need for ground crew, as it cannot chock the wheels or recent collisions with runway ground equipment, probes, luggage tugs and other machinery on the AOA.
While airport ground workers generally meet each plane, it is not always possible. Sometimes, airport ground workers are stuck at another gate, and pilots have to wait for safe clearance. With the new technology, pilots for most airlines are permitted to park their jets without the ground team. The system also is useful in inclement weather. Workers generally may not be on the AOA tarmac when lightning hits close to an airfield. Sometimes pilots can wait 45 minutes or more for the ground crew to get the all-clear to return to the ramp. Airport injury lawyer Doug Landau has represented workers who have been electrified and electrocuted. Ensuring ground safety during inclement weather can prevent airport workers compensation claims as well as damage to jets and vehicles on the AOA. Some airlines find that even in good weather, the automated system helps save a minute or two on every airport arrival. That means that airline runway and gate workers can connect the plane to electric ground power, stock food or unload bags just a little faster, which is important for time and cost savings.