Outside the Office – Protecting What's Inside the Head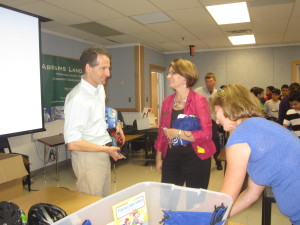 Just as airport workers would not think of going out on the busy Airport Operations Area ("AOA") without their colorful vests and ear protection, so too should all cyclists and skateboarders wear their head protection. To that end, Doug Landau of the Herndon law firm ABRAMS LANDAU set a goal of giving out 365 helmets this year to school children who could not afford them.
Landau also gave educational presentations in Herndon, Fairfax, Reston and Loudoun County Virginia so that the students and their families could learn how to properly wear their bike helmets. Assisted by Herndon, Fairfax and Loudoun Police, the Landaus, teachers and Brain Injury Services staff were able to fit each student with a new helmet, along with a carry bag and information about preventing brain injury.  To learn more and see photos from these events, please visit the ABRAMS LANDAU GIVING PAGE on FaceBook.