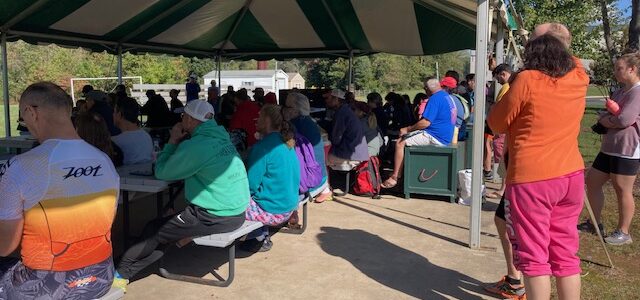 Backwards Triathlon – TriItNow event fun for everyone
Instead of a season opening "Tune up Tri," Ina Nenninger & her merry race crew put on a reverse super sprint triathlon George mason university freedom fitness center. Starting with a 1.5 mile run, followed by a 4 mile one lap bike ride around University Drive and the roads adjacent to the Prince William County campus, this unusual event ended with a 250M serpentine swim. TriItNow makes excellent use of the GMU facilities. Participants then had to climb out of the pool and cross the timing mat with the chips on their ankles. Then Ina handed each racer a face mask for the safety of all.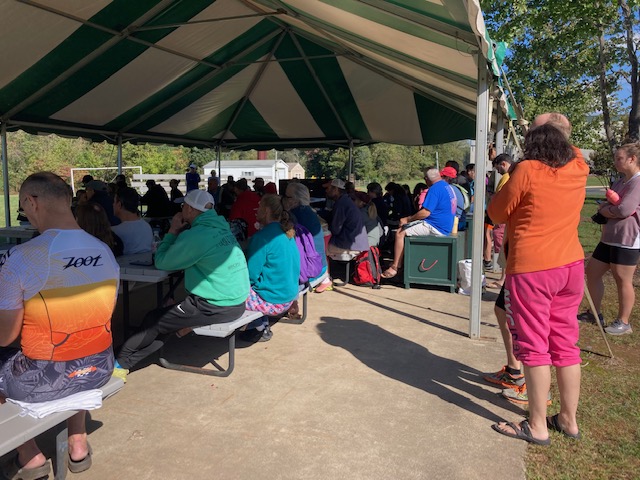 In addition to the super sprint triathlon, there was a DUathlon (1.5 – 4 -1.5 miles); an Aquabike; Aquathlon; and even a Tri Relay for 2 or 3 people to get involved in multsport events.  To that end, TriItNow held a Pre-Race Tri Clinic on Saturday afternoon, the day before, to help participants do their best on race day.  This event was part of the TIN Point Series, there was a professional photographer, awards for all finishers and, as per their races, LOTS of random prizes from Great Harvest Bread in Vienna, Virginia. TriItNow collects charitable contributions for the Michael J Fox Foundation for Parkinson's Research. 
A large field was separated in to heats, and there were plenty of arrows on the course to keep everyone on track. The bike course was all right turns and 2 U-turns. There were plenty of opportunities for spectators to see their family and friends. But how to do the events in reverse? Experienced triathlete Doug Landau knew that in such a short race, the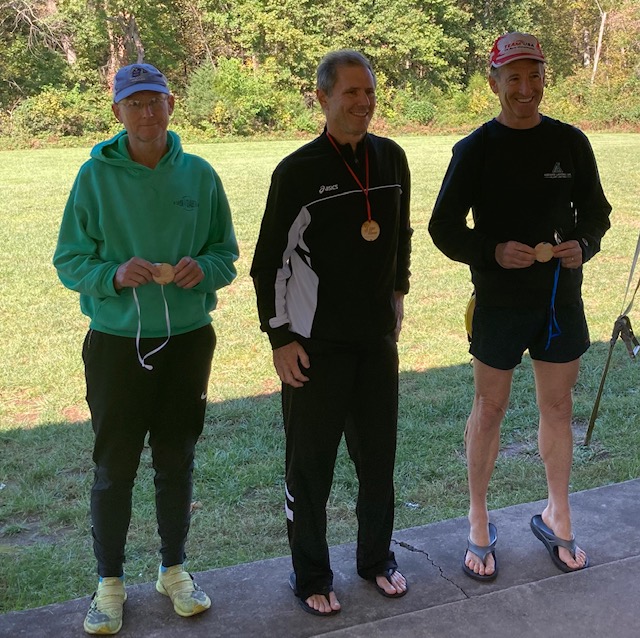 transitions had to be extremely short, so he wore his goggles around his neck, tucked his swim cap and race number into his tri suit and stepped on his heels to get out of his racing flats while putting on his bicycle helmet in T-1. Dashing off with the gun in the last heat, lawyer Landau was nevertheless passed by the eventual winner and runner up. He gave chase on the bike, had a quick T-2, and entered the pool for the "over/under" swim, where participants went in one direction each lane down to the deep section of the pool. Landau finished in thirty one and a half minutes, in 5th place overall.  Participants could get a hot shower after the race, and even enjoy the sauna or hot tub! The post-race picnic saw lots of cheering for winners, awards, and the popular random awards.  If you have the chance in 2022, you should try the TriItNow races. They are fun, short, and well run.