Meet Some of the Youth Bike Mechanics from Phoenix Bikes!
Meet Aelin and Liam! On our recent visit and helmet drop-off to Phoenix Bikes in Arlington (read more about it here), we had the pleasure of visiting not only with Executive Director Emily Gage, but a few of their young bike mechanics as well.
Through their trademark educational Earn-a-Bike program, participants learn bike mechanics by building bikes from the recycled parts of other bikes, and walk — or ride, shall we say — away from the program with their very own bike. Aelin and Liam are just two of the many young mechanics impacted by this wonderful program.
Aelin, 12, from Alexandria, VA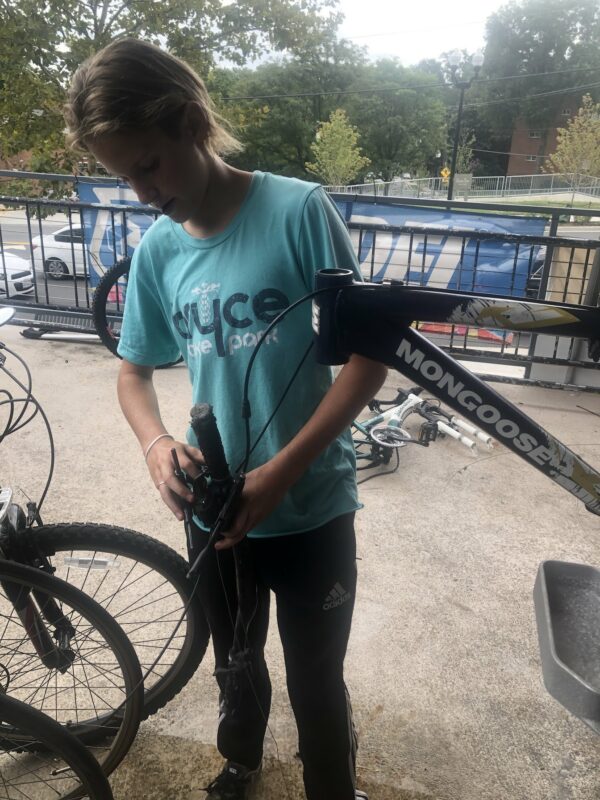 Aelin, 12, is one of the kids currently in the program. His dad had first started teaching him about bike mechanics little by little, and then his friend taught him more, until it became a greater interest and he learned about the Earn-a-Bike program. Now his mom brings him in from Alexandria, and believe it or not, his workshop learning is actually part of his home-schooling curriculum this year. How fun!
What he likes most about the program? "I like to be in a bike shop. It's fun, and I get to work on bikes." Usually his work sessions run about 2 hours, but as the saying goes: "do what you love, and you'll never work a day in your life." That sure seems to hold true for Aelin. He intently continues working on his bike as I pester him with questions, but he obliges me with clear, straightforward answers while staying focused on his task — in this case, stripping a bike for parts. These parts will then be used on other bikes, or sold in the shop to cyclists in need of a given part.
He also describes how the completed bikes themselves will either be sold or given away to a kid. He struggles for a bit with an uncooperative bolt that apparently doesn't want to be separated from its bike. "That's why you grease your bolts," he says sagely. Of course he triumphs in the end, and removes the bolt like it's all part of the routine. This mechanic knows what he's doing, after all.
Liam, 18, from Accokeek, MD
Liam, 18, is a graduate of the Earn-a-Bike program. Even though he lives down Accokeek, MD, as a teenager in the program he would make the trek every day to come to classes. He describes how his mom would drop him off several miles away on her way to work, and he would bike the rest of the way in to the shop. On his way home? Hit the bike again for a few more miles to meet dad on his way home. Talk about dedication.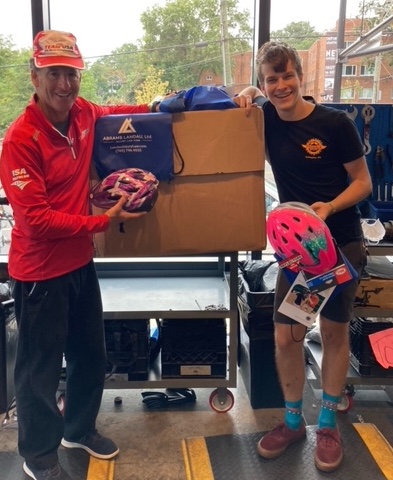 Having graduated high school this past spring, Liam decided to do a gap year before college, and thought quickly of finding work at Phoenix Bikes, who created an internship just for him, to offer Advanced Mechanics. While in the role he has reworked the program in order to be able to offer Advanced Mechanics every day.
Now he is working as the Program Coordinator in the shop, teaching and training the younger bike mechanics, organizing the Phoenix Bikes cycling team, Saturday youth rides, and more. Come Fall 2022, he will ship off to attend Oregon State to study mechanical engineering. Go Beavers! If you'd like to wish him luck, or want to know more about the programs and events run by the shop, send him a quick message at liam@phoenixbikes.org, or just stop by the shop and do it in person!
Get Involved
These are just a couple examples of the many youths positively impacted by the programs at Phoenix Bikes. The Earn-a-Bike program is open to anyone in middle or high school, but anyone can drop by to shop for a bike, spare bike parts, or just to see the team in action. And there are many other ways to get involved too, no matter your age. Don't forget about their upcoming events:
• Oct. 25 – Nov. 1 — "Phoenix Phrenzy," their virtual auction. They need auction items, so visit their page if you would like to contribute, and set your calendars so you can explore the items up for bid!
• Thanksgiving morning, Nov. 25 — the Arlington Turkey Trot, a charitable 5k which attracts over 4,000 participants. Phoenix Bikes has been named a Special Fund Beneficiary this year, and will receive a portion of the proceeds.
• For more information on the many other ways to help, visit the Get Involved tab on their page.