The only brothers in the race.
That's what Ken Landau told famous NYC Sportscaster "the Amazing Bill Mazer" during an interview before the New York City Marathon over four decades ago. My brother had run the Boston Marathon is a 13-year-old, and was wearing a race singlet with something on it written about the famous New York City sportscaster Mazer. Even though though getting ready with 14,000 others to run the 26.2 mile distance through the boroughs of New York, Mazer picked out my brother's yellow shirt, and interviewed him. Friends of ours to this day remember "Kenny and Dougie Landau, the only brothers in the race!" being questioned about tactics, expectations, and the joy of running. Ken was a high school student at Dwight Englewood, where our mother was the Librarian, and he ran the mile, 2 mile, and competed in high jump and long jump. He was tall, skinny and he had ballistic power AND endurance.
Fast forward two score years, and "Kenny" had hung up his running shoes after a successful four years at Colgate University. He won the trophy for the race up the Empire State Building and was working for Apple computers. Doug, with three years of eligibility left after Boston University, trained with the University of Miami track team during law school, continued racing in road race competitions and started doing triathlons. Doug kept training and competing; Ken not so much. Then, Ken got the bug again, and has been: training with an online coach; eating "clean" and getting lean.  He recently signed up to run in the Boston marathon 44 years later after his first successful finish.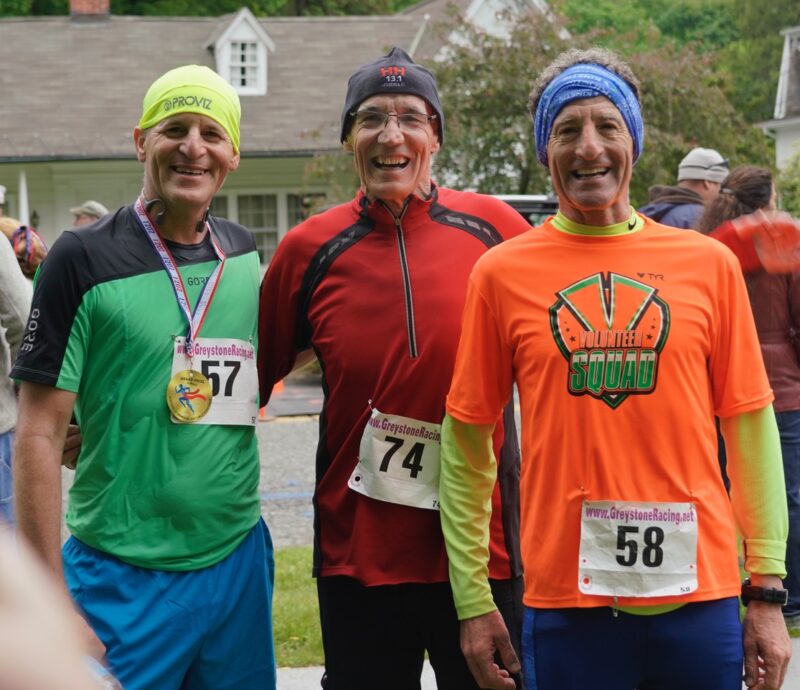 Because Memorial Day weekend the family celebrates Ken's birthday, Doug, their mom, and Ken's sons made the trek to Connecticut to celebrate together. Ken's training plan called for a very long run on Saturday, so the the training partners and brothers did an 11 mile run to make sure Ken's plan was on schedule.  Always looking for the next race, Doug's birthday present was registration for Mondays 5 mile road race in Norfolk, CT!  The brothers used the Millerton rails to trails new extension for their 11 mile test run which Ken ran in perfectly paced miles. Doug had a hard time walking afterwards, as well as the day after. Nevertheless, they lined up for the noon time start in Norwalk, Connecticut.  The brothers lined up in pods to start the annual 5 mile. Race director Will Graustein noted that as Doug got to the starting late, he'd have to start in the very back. The Greystone Race timing folks had a wonderful rolling course set out with plenty of smiling volunteers, water, biomarkers, and treats after the finish line. It was a straight up hill run the last 400 meters to the finish, and Ken had one of the best kicks seen that day.  While Doug got in a few moments before his brother, Ken had the best kick of the day and completed the course well under his 42 minute goal. Furthermore, Ken's two sons, wife, dog, mom and brother were all the finish line to cheer him on & wish him a healthy, happy birthday. Ken's age, 57, was also his official race number! The Landau boys then went to lunch, and drove to New Jersey, after they dropped off their 85-year-old mom in New York City.
As the Boston Marathon has been rescheduled to Columbus Day weekend, October 11, 2021, Doug Landau and other family members hope to be in Boston to cheer Ken on as he participates and raises money for project Jumpstart.
Jumpstart is a national early education organization working toward the day every child in America enters kindergarten prepared to succeed. We provide language, literacy, and social-emotional programming for preschool children from under-resourced communities and promote quality early learning for all children. Since 1993, we've trained more than 50,000 college students and community volunteers to transform the lives of over 123,000 preschool children nationwide.In Kansas second marathon, in New York City where the brothers were interviewed, he ran a four hour marathon, which is his goal this fall. Frankly, Doug Landau says, is it a win. Landau the older Landau admits, even if I could finish her marathon these days, I'll be horrible a number of weeks. I think I will stick to sprint triathlon's, five keys in 10 keys
The brothers have some more training runs, endurance building bike rides, intervals and road races this summer, in order to ensure that Ken is in best possible position for a good race over the Hopkington Hills in October.  As he ran a 4 hour marathon all those years ago in New York City after the interview, Ken hopes to try to equal that time this year. Stay tuned for future updates.