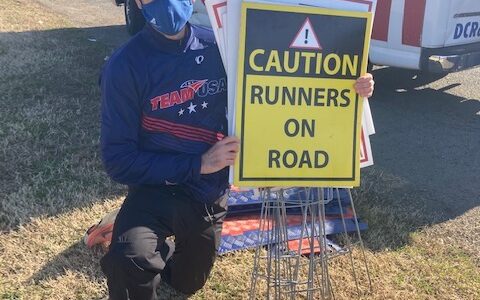 Lawyer Landau "cleans up" at DC Road Runners Annual Fort Hunt 10km. Race
The DC Road Runners Club ("DCRRC") is starting to hold some races around our nation's capital. This past weekend the annual Fort Hunt 10KM road race was held in a very safe park near Mt. Vernon, Virginia. Run entirely within the park so that there was almost no vehicular traffic, the relatively flat, open, 5-loop, 6.2 mile course provides a great way to find out your early-season pace, endurance, and speed.
Doug Landau has been participating in this race since its inception, and has been known to mark 220 yard increments on the pavement with chalk so as to work on his pacing! Landau is known for his sprint triathlon ability, and there's very little pacing in an all out sprint event. This 10Km race is longer than the usual distances that he competes in during the sprint triathlon circuit, so holding to a steady pace is a good exercise. Plus, he had not raced this distance since his bike crash in September.
Because of COVID restrictions, there would be no awards ceremony, no on-site registration, no cups handed out, and only water bottles along the course and after the finish line. The rule was to be "if you touch it, you take it ." While there was a smaller field than usual, the racers and walkers enjoyed a sunny morning and a professionally organized race. DCRRC Race Director Jill Bernie had plenty of smiling volunteers along the course, mile markers, as well as a 5K sign, and thanks to the clockwise loop layout, nobody got lost!. Doug Landau volunteered for cleanup duty (since he was running in the event and coming from the Dulles Airport area). It was a glorious morning with the sun rising over the Potomac, and Landau had ru  many times up and down the Mount Vernon Parkway when his office was located in the Courthouse Plaza, in Old Town Alexandria. It was a nostalgic return to an area where he enjoyed working and training.
This year's Fort Hunt 10Km had a reduced field compared to years past. Landau and his kids have participated in this event, which is conducted entirely within the gated park. After instructions, which included the wearing of masks until the field was spaced out, runners and walkers of all ages and sizes did the 5 circuits. Landau managed to average 7:12 per mile, in an evenly paste effort. Then, after the last walker finished, the DCRRC signage, tables, electronic timing equipment and other materials were loaded back into the van well before mid day.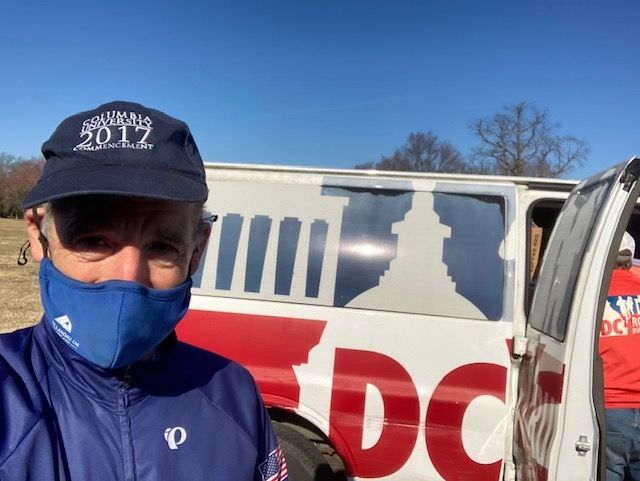 While local road running clubs, race directors and others are tentatively starting to test the waters with regard to returning to events in Northern Virginia, DC and Maryland, this past weekend's experience shows that it can be done safely if everyone cooperates. While the field was less than 100 people, it is possible if everyone observes safe distancing and masking, that more events can be placed on the local calendar soon. ABRAMS LANDAU, Ltd. has again agreed to be a major sponsor of the Virginia and Maryland triathlon series, with multi sport events starting in April, and going through October. Working with Kinetic MultiSports, Doug Landau hopes that area Triathletes, DUathletes, and cyclists will have the opportunity to see some wonderful venues throughout the region.
For links to more wonderful DCRRC events, click here and see you at the races!