Keeping Physically and Mentally Fit During the Lockdown: Lawyer Landau is "Training to Maintain"
First, races that attorney Doug Landau had signed up for for the 2020 season are being postponed. Then, races in the Virginia Maryland Triathlon Series, or Kinetic Multisports, that he helps to sponsor, were canceled through Memorial Day. Now, events are being canceled left and right with no clear return to competition date. Set for the end of July, the 2020 Olympics have been canceled until 2021. Hoping to win Gold again at the 2021 Maccabiah Games, Landau just found out that they have now been postponed to 2022.
Doug Landau's triathlon season was supposed to begin again in March. He had been working on his endurance fitness through the winter. Running in the TropiKal Half Marathon in Puerto Rico on March 1st was supposed to be the kick-off to what was hopefully going to be a very successful mutisports season. The Mid-Atlantic Duathlon Championships in Hagerstown were going to see Lawyer Landau competing for the first time in the 60+ category. As last year's Mid-Atlantic Spring Triathlon Champion, Landau felt he had a very good shot on the relatively flat course that he has run on a number of times in event put on by his friend Ken Racine. However, after the "stay-at-home order" went into effect, Landau and his law team at Abrams Landau, Ltd. began working remotely starting March 13th. There have been no races, group rides, runs, or other athletic, social, competitive or other training events.
While Landau is an amateur athlete, who does not derive his livelihood from sport, he notes, "exercise is my Ritalin." In other words, daily intense exercise is what enables him to keep his mind focused, his health intact, and his "butt in the chair" during long depositions and trials. Being in the best physical shape in court has its advantages. Unlike many other lawyers who may drink, smoke and/or eat too much, Landau's fitness enables him to have endurance during grueling and intense negotiations, mediations and trials.
With the cancellation of races, Landau's schedule has changed dramatically. He really does enjoy traveling to races, seeing clients, friends and co-counsel, and during the season he is often racing three times per month. Now, he is doing a lot of "LSD" (for runners, "long slow distance"), as there is nobody around to chase after. In addition, he purchased an indoor rower, with water inside, which he likes a lot. He is using this instead of swimming, as the pools or recreation centers are all closed.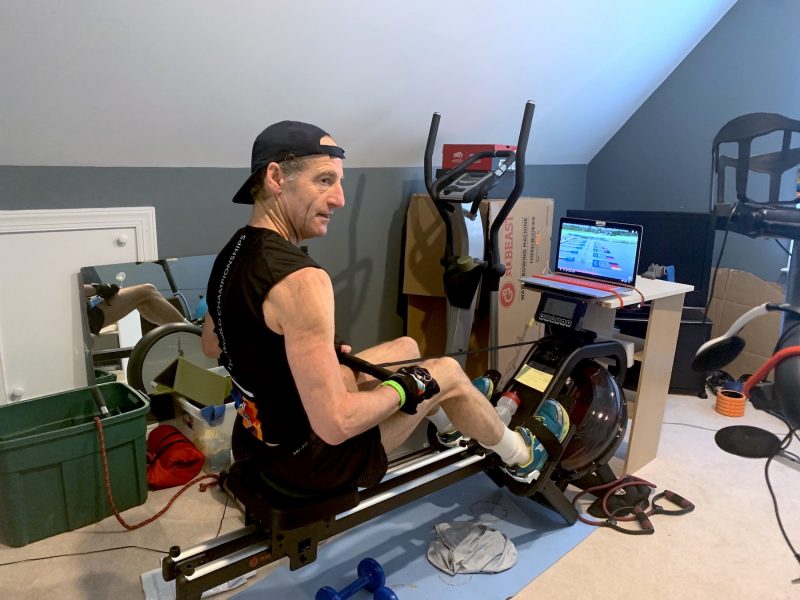 To get his competitive juices going, Landau likes to watch past Olympic crew races on his laptop and pretend he is racing. At these "virtual regattas," he feels like he is competing against the  best rowers in the world! He tries to keep his stroke rate the same as the Olympians and while it's not the same as swimming, it gives variety in a non-impact indoor aerobic activity. Landau relates that, "while the intensity of rowing seems to be not as high as cycling outside on the lonely Loudoun County roads, it will hopefully provide benefit when I am allowed to compete once again."
In addition to the indoor rowing against the Olympic crews, he rides his recumbent bicycle while reading third class mail and listening to webinars. At the law office, one rainy days, he will ride his bike on a turbo trainer in the conference room, once again while reading and watching webinars. He does get to ride outside occasionally with his wife, who is on her triathlon racing bicycle while he is on an old "beater" mountain bike that makes it more even. He has even been doing speed work with his track spikes on the uphill "gas right of way," or barefoot on local empty fields. Lawyer Landau said, "This will hopefully keep me from losing all of my top and speed and fast twitch muscle fibers. I am actually doing a family Zoom yoga class every weekend with our darling Samantha leading us through our paces. We are an extraordinarily inflexible group! I really enjoy the socializing between the four generations afterwards. We have had over 30 people at one time!"
Click here to see how the Abrams Landau law team is staying active and healthy during the coronavirus lockdown.