First Race of the New Year and a Blanket at the Finish Line
When a race hands you a blanket at the Finish Line, there's beer from the sponsoring brewery, and there are food trucks, you know it's going to be a fun time. The 2020 New Day * New Year races enabled Doug and Melissa Landau to run the morning of January 1st. The third running of the New Day * New Year 5k/10k was sunny, relatively warm and incorporated a rolling course around One Loudoun and Ashburn. The event was hosted by House 6 Brewing Co., on Atwater Drive in Ashburn, Virginia.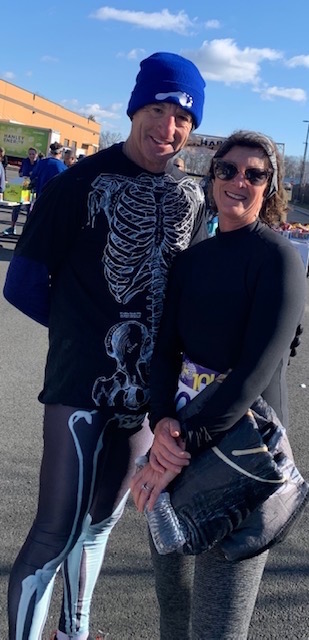 Potomac River Running put on a great race, with Leslie Green acting as Mistress of Ceremonies, and experienced Race Director and road racer Tom Cook out on the course. An assortment of light food and refreshments were available after the race. In fact, you could smell the food trucks as you approached the finish line behind the brewery! Little Bamboo Café and BUENA'DILLAS was available with a breakfast menu for all runners. There was a selfie picture station available for capturing runners' first day of 2020!
Both Landaus opted for the longer 10km event. Melissa Landau, the VA/DC/MD Realtor, enjoyed the sunny day and safe course through new construction and development. Doug Landau, despite tired legs, managed to finish 30th out of several hundred runners in just under 8 minutes per mile average pace in his 3rd race of the week! Both Landaus got blankets from the friendly Finish Line volunteers. After the race, they showered, visited a local lawyer's New Years Day open house and then traveled to Richmond to have supper with family in Short Pump, VA.
Proceeds from The New Day * New Year 5k/10k event went to support the Rotary Club of Leesburg's Perry Winston Memorial Scholarship Fund! Go to
www.NewDayNewYear5k.com for more race info.