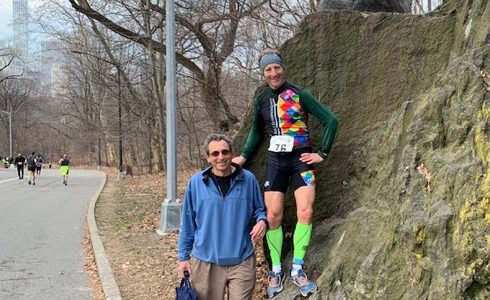 Central Park Podium for Lawyer Landau at First Race of the 2019 Season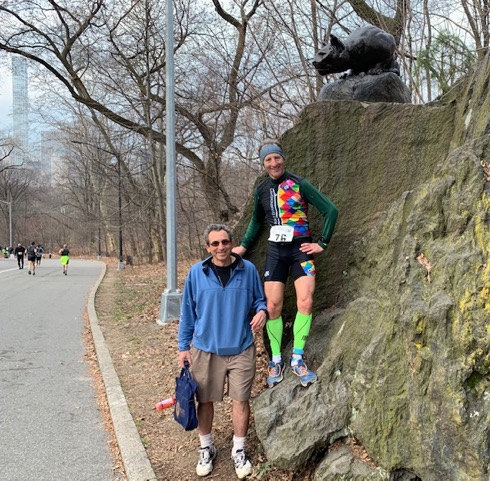 With the USAT National Championships only a fortnight away, and only one outdoor ride under his belt, attorney Doug Landau participated in the Central Park Duathlon on March 31st. The run 2.2 miles, bike 2 loops/12 miles, and then run 2.2 miles format, meant that New York City spectators could see racers six times during this race. Landau noted that the total distance for this event would be similar to the National Championship total distance, and he felt well behind those racers from the South and West Coast who could ride outdoors year round. Always on the optimistic side, Landau stated that this year, unlike 2018, he is not injured, not recovering from pneumonia, and should be well-rested after an easier, taper week. The upbeat attorney said, "Half of winning is just showing up!"
New York City Triathlon Club is celebrating its 35th Anniversary, so there were beefy sweatshirt and water bottles. Landau has participated in duathlons in Central Park before, usually winding up on the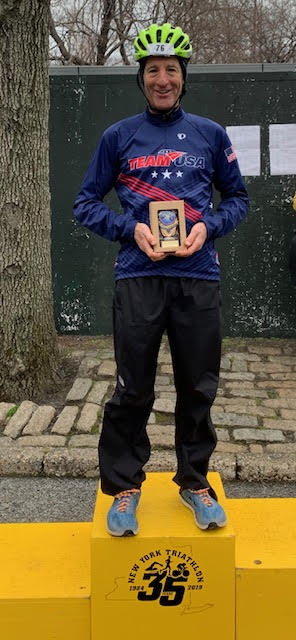 podium. This year was different in that lawyer Landau won his division by more than a mile, mostly because of a strong bike leg during which no other racers were able to successfully pass him.
The Landau family was in the Big Apple for a family event. As per his M.O., Landau visited with an airport injury client outside of Newark (NJ) International Airport while picking up his eldest daughter and her husband. He then stayed in New Jersey with his mother, celebrated with the family in the City, and then dropped off folks at the airport on the way back to Virginia. It was another instance of "Faces, Places, Cases and Races" for lawyer Landau.
He will try to get a few more outdoor rides and runs in before leaving for Greenville, South Carolina, for the 2019 Duathlon National Championships. In addition, while he's there, he will visit with new and old clients to discuss their cases, meet with former Abrams Landau associate Lisa Beaman, see new places and faces of old friends, and watch the other races preceding his event. To see when Landau is racing near you, please look at the latest Abrams Landau law firm e-newsletter here.