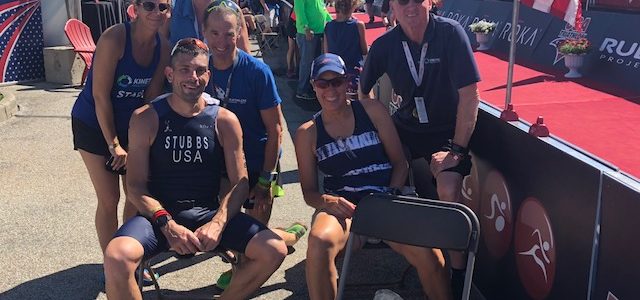 Tough Day of Racing at the National Championships
Over a dozen of the top athletes from the Virginia and Maryland Triathlon Series (VTS/MTS), or Kinetic Multisports, qualified for the USAT National Championships in Cleveland, Ohio. In today's Olympic Distance event, Doug Landau followed over a dozen friends, training partners and teammates out on the course and on the USAT app. The app helped find out where the participants were on the course, their speed, place and expected finish time. Shown here after a terrific finish is TeamUSA member David Stubbs, along with VTS/MTS Masters Champ Don White and their wives, Landau and JMU Physiology professor and top triathlete Connie Peterson at the finish line.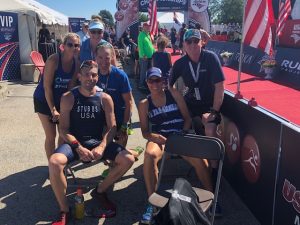 To give an idea how difficult the course was and how steep competition was, David Stubbs, who has won several Kinetic Multisports races outright, including last weeks Culpepper race, managed 35th in his age group, and he had a tremendous bike ride started out at 5:58/mile on the run. He'll be going to the World Championships in Australia next month! Stephanie Van Bebber, also a top age group competitor who trains with Landau at the Green Lizard Bike Shop indoors during the winter, finished in about 14th in her category despite a strong performance. And perennial podium occupant Gail Waldman, also finished out of the top eight in her grouping, which is the automatic qualifying slot for next year's World Championships in Lauzanne, Switzerland.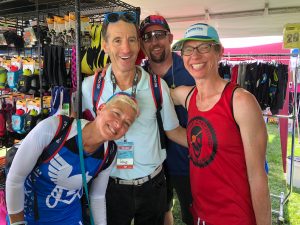 Many other triathletes Landau was following encountered similarly difficult conditions. Stephen Shulman, a 2005 Maccabiah Games teammate, came down from Long Island and encountered an extraordinarily difficult swim. Kim Shoop, fellow Fairfax Bar member Cynthia Revesman, and Worldgate Sport & Health swimmer Joe O'Gorman likewise had their hands full between the wind, delays at the start, and the crowded field. Veteran triathlete Shoop commented after the race that the swim portion was the hardest she had ever encountered.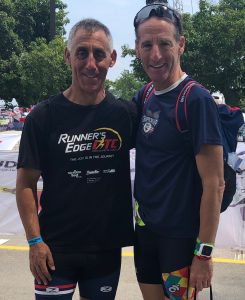 Landau's sprint race is not until Sunday. Portions of the challenging bike course is only one lane wide, and some parts of the run course takes racers over a man-made foot bridge that goes over athletes coming out of the water and into the first transition! It makes for many great opportunities for spectators to see bikers, runners and swimmers going in BOTH directions at the same time! Super coach Justin Trolle of Colorado Springs' Vanguard Endurance could watch his athletes from several vantage points and give them immediate feedback as to their form, time and placement.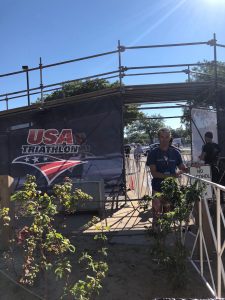 The reticulated run course was tough on athletes in light of the tight turns, changes in pace and weaving in and out (especially if you are in one of the later heats). As lawyer Landau is in the 12th heat in Sunday's Sprint event, he will be having to bike past and run around other racers the entire race, since his swim times have been infamously slow over the last several years since he began concentrating on DUathlon competitions. Hoping for safe race, to finish upright in a very tough category, Landau's goal is to see if he can again make it to the World Championships as a member of TeamUSA, after missing by one place in April's DUathlon National Championships. Stay tuned for tomorrow's repost to see if lawyer Landau can produce more than a pedestrian swim, then ride safely and swiftly over the dangerous bike course and then run faster than his current 7 minutes per mile race pace. It's a tall order, but this is his "A" race.