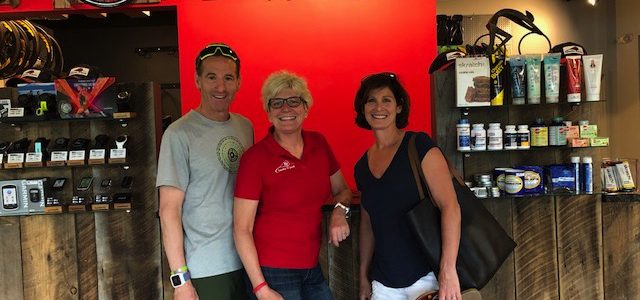 Transition Triathlon – Something for Every Triathlete, Runner, Biker, Swimmer & Multisport Athlete!
In its new location in "downtown" Leesburg, Virginia, the popular Transition Triathlon store has everything a multi sport athlete could want. From the tricked out bikes in the window (and hanging from the ceiling), they have nutrition supplements, clothes, shoes, race kits, goggles and hard-to-find items. Bike accident lawyer Doug Landau of Abrams Landau in Herndon, Virginia cannot remember a single instance of going to this welcoming shop and not getting things that were not on his list, as they have race gear and supplies that you did not think of before you arrived.
It is well worth the trip to Loudoun County. Located conveniently off of Catoctin Circle (you can get your car detailed while you shop!), Steve and Alex's store is also steps from the W&OD trail. In other words, Doug Landau can ride his bicycle from the Landau law firm to Transition Triathlon and not have to deal with vehicular traffic!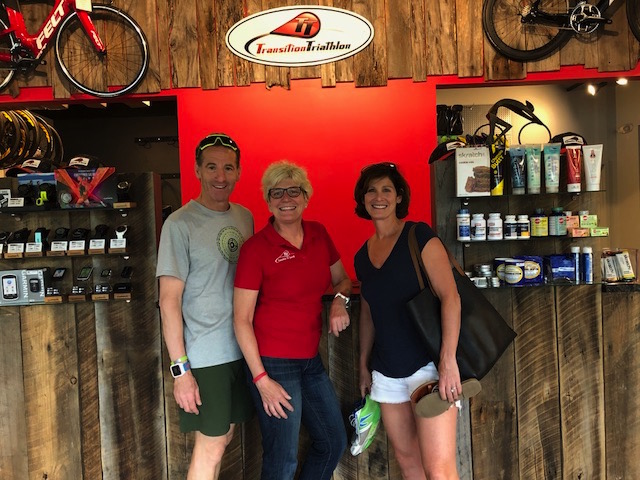 For Mother's Day, the Landaus paid a visit to Transition Triathlon so Melissa Landau could replace some worn out Newton running shoes. Lawyer Landau specializes in "romantic gifts" like this, having purchased his bride all manner of sports equipment in the past. He even gave her a wetsuit belonging to a grateful client's parent. "When it comes to my bride of 34 years, no expense is to be spared," notes lawyer Landau!
The Landaus, whose eldest child is 32 (and youngest is 24) were then able to attend the "Pride of Herndon" marching band rock concert on the Herndon Town Green.  A fortnight before, Landau himself acquired a pair of Newtons as well as the wide toe box Altra running shoes. Newton running shoes, developed for forefoot running by Danny Abshire, are not for everyone. But unlike most mass-produced jogging footwear, they are not for the slow "heel-to-toe" style espoused in the past. For runners and triathletes who like a little extra space between the toes, Altra running shoes are extremely comfortable.
While the Landau's were shopping, athletes on their bicycles, runners coming off the W&OD Tail, and even dog walkers visited the shop. So if you are in Leesburg or Loudoun County, and want to see cutting edge triathlon, running, swimming, cycling, and duathlon gear and learn from knowledgeable staff (and experts brought in for FREE clinics), visit the friendly folks at Transition Triathlon.