Lawyer Landau Wins Age Group Again in Virginia & Maryland Triathlon Series; Runner Up in Rev3 Triathlon Series; & Has Podium Finishes in "Tri It Now" & USAT Mid-Atlantic Duathlon Race Series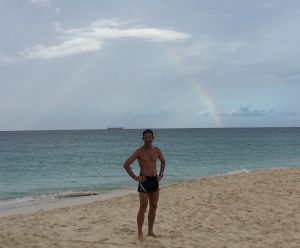 "2017 was fraught with pain and frustration, but there were accolades for hard work and perseverance," noted Age Group triathlete Doug Landau. Injuries and for the first time, DNFs marred a season that started with so much promise after double hernia surgery in December 2016 and repair of a torn soleus in the very first triathlon in the 2016 season. "You do your best to lay a strong foundation over the winter and early spring, but until you actually start racing against the best in the country, you do not know if your fitness is sufficient to get you to the podium against the best of the best," he added.
Lawyer Landau was able to win his age group in most of the races he contested in Virginia, Maryland and Delaware. This enabled him to win his age group again in the highly competitive Virginia and Maryland Triathlon Super Series. However, Landau is always looking to win an overall or Masters title, so settling for age group awards at Bethany Beach, were tough for the seasoned athlete. In addition, Landau did not make it to several races he has either won or finished in the top 10, and withdrew from the Pine Plains Triathlon after getting lost on the bike course.
In other cumulative race competitions, despite only contesting the minimum number of events required (2, with a participant's best THREE races counting towards the standings), he was an age group series winner in the Rev3 Sprint Triathlon events and a 3-time top 3 overall finisher in the Manassas, Virginia "Tri-It-Now" Duathlon and Triathlon Series at the Prince William County campus of George Mason University. Because he only competed in the Maryland State and USAT Duathlon National Championship, he did not have enough events to score in the Mid-Atlantic Duathlon Series, despite racing in both the non-draft AND draft-legal Duathlon Nationals in Bend, Oregon. While he did qualify for the "draft-legal" Duathlon event at the ITU Multisport World Championships in Penticton, Canada, a taped-up lawyer Landau finished "wheels on the pavement," but in the middle of the pack.
The Herndon Reston area trial lawyer and racer thereafter bypassed several races, including the Sprint Triathlon World Championships in Rotterdam in order to let his body try to heal. After taking off some 10 weeks from dry land running, undergoing physical therapy and dry needling, Landau is back accumulating miles on soft surfaces in order to cobble together an "aerobic base" during this winter phase of his annual training plan. In other words, he is doing a larger volume of training, but at lower intensities than during the racing season. He has not raced since October, and while the USAT DUathlon National Championships (and Worlds qualifier) are the beginning of April (!), Landau has not indicated when he will return to competition before that important event.
"I feel like my legs have healed, and my indoor biking classes test my hearts capacity for hard work. However, my ability to swim with top masters at Worldgate Sport & Health or the SportFit Lab folks at Claude Moore is questionable. Furthermore, my running will be the real 'wild card' as we attempt to test foot speed with some winter and early spring road races. Seven-minute miles is just not competitive at the top national events. Maintenance of lean body mass and injury prevention will also be key components of this season's preparation, as will adequate rest, nutrition, hydration and logistics. I am already working on getting 8-10 hours of sleep a night, naps when I can, and keeping my waking heart rate at 42 bpm. In my VeloLabs classes at the Green Lizard Bike Shop in Herndon, I focus on putting out high Watts per kilogram in relation to a low heart rate. Other bikers can crank our higher wattage, but they may have 20-50 pounds on me. Out on the race course, their heavier bodyweight and lower lean body mass ratio will be a liability. I am trying to lay the groundwork for a successful season in 2018, and it will take a lot of preparation as I am getting older and have a full schedule of cases, speeches and important family events." Stay tuned to see where and when lawyer Landau races in 2018!