Stroke & Stride – Fun for Multisport Athletes of All Ages
Our friends at Tri It Now put on another fun event at the Freedom Aquatic & Fitness Center in Manassas on Sunday. With the George Mason University ("GMU") Prince William County Virginia Campus a safe setting for children and adults to participate, there was something for everyone.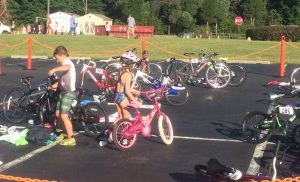 Doug Landau was a "last minute" entrant in the adult "Splash & Dash" event. This race consisted of a 350 meter pool swim and a 5 km run. The swim was in a "long course" 50 meter lap format, and the huge GMU pool was set up to have only 7 wide lanes, so there was plenty of room for competitors, as they started swimming at 5 second intervals. The run was a 2-loop course from the fitness complex to the Hylton Performing Arts Center and back. Lawyer Landau's goals were: swim his predicted time of 7 minutes, finish in the top 3, complete the course in under 30 minutes despite injured legs. With perfect weather and his new TeamUSA Worlds racing kit, Landau swam 7:09, was down by 1:20 after the swim & came back 1:05 for the runner up spot, and finished in under 28 minutes ! Doug noted that he had "run out of real estate" – had the race been another kilometer, he felt as though he could have won.
Ina Nenninger (in photo on right, about to get a peck on the cheek from "over 40" age group winner Doug Landau) one of the founders of Tri It Now, also staged a "Kids Tri Too," for those are 6-14 prior to the adult race. After the adult race, there was a "Kids Can Du" run-bike-run event for children ages 5-9. Some of the children in the first race did the entire event in their swim caps, as once the bike helmet is clicked on your head, you are not allowed to take it off until you are done. If you "unblock' before returning your bike to the rack in T-2, you will be disqualified.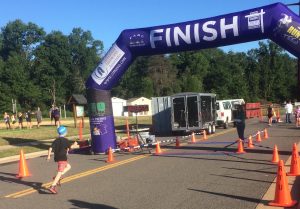 In addition to friendly volunteers, knowledgeable staff and events for everyone, the Tri It Now venue enables participants to change, shower afterwards, or sit in the hot tub or swim some more at the Freedom Center pool and indoor water park. Families were able to enjoy the perfect morning on this state University campus, where there was almost no vehicular traffic and plenty of police presence. Doug Landau wholeheartedly recommends Tri It Now events for new triathletes and duathletes, as well as those introducing multisport to their children. Tri it now !