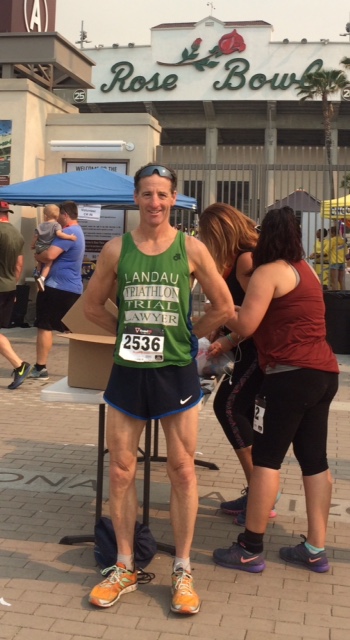 Rose Bowl Race a Fun, '80s Themed Awesome Event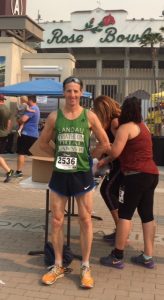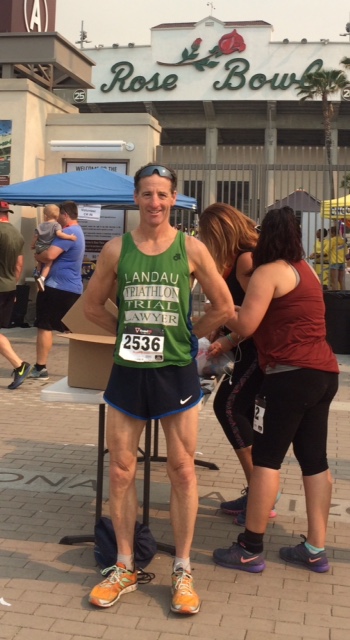 Chased by a pair of "Pac Man" machines, a "Richard Simmons" impersonator and what looked like the band "DEVO," Virginia lawyer Doug Landau ran the "Awesome '80s Run 10km around the Rose Bowl this morning like he was being chased by the caste of Michael Jackson's "Thriller" music video !
Always in the top 10, lawyer Landau cruised through the first 5km lap in under 7 minutes per mile, but had to dodge, weave and go around thousands of costumed competitors for the second lap.  The race took place under a "red sun" due to the haze from the ash from Southern California wildfires and smog from the Los Angeles area pollution.  A number of participants wore face masks, and the condition were far from optimal. Nevertheless, the venue was able to accommodate a large field and there was plenty to drink before, during and after the race.
The Pasadena Awesome '80s Run gave all finishers "a Totally Awesome '80s Finishers Medal, Circa 1980s Style T-shirt, and Free Race Photo Downloads at this Rad 5K / 10K Run – Walk."  Landau was joined by his wife and eldest daughter.  They were entertained by entrants in the "Team Challenge & Costume Contest for Gnarly Prizes & Way Cool Entertainment at the Pasadena Rose Bowl." Race organizers encouraged participants "to dress up in their favorite '80s gear! – Wacky costumes, neon shorts and leggings, wild colorful hairstyles, big glasses, headbands and scrunchies, and stylish leotards," The race directors promised,  "You won't be the only one dressed like a weirdo !"  The variety of costumes, makeup and gear did not disappoint.  The Landaus enjoyed the people watching, music and entertainment as much as the running and the post-race treats.
Doug Landau treated this as a "train thru" race, putting in longer, less intense runs, swims & rides this week, after the prior week of racing (3 races in 6 days !).  So he was pleased with winning his age group, being the top grand master & challenging younger runners while working hard on the West Coast for the national trial lawyers Continuing Legal Education program.
After a challenging week culminating with an injured workers trial in Berryville, VA and then an all-day Mediation of a Manassas car crash cash, Landau flew to Los Angeles to give several presentations at the American Association for Justice (formerly the Association of Trial Lawyers of America) Annual Convention, meet with local and co-counsel on ABRAMS LANDAU law firm cases, and network and learn from the best trial lawyers from all over the world. Lawyer Landau intends to be back in the office next Tuesday.