Scouting the Sprint Course in Adleaide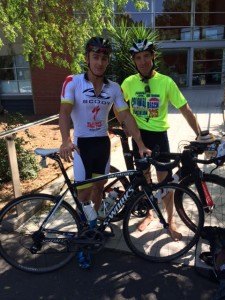 Just as he prepares  trials for court, Doug Landau laid the groundwork for learning the terrain of the course and meeting with other professionals at the DUathlon World Championships in Adelaide, Australia.
Lawyer Landau was pleased to meet Matty Smith, whose articles he had read in Australian triathlon magazines as well as online.
Smith and Landau did a circuit of the sprint course to ensure that all the turns, essence, and downhill portions were familiar prior to race today.
After stealing their bikes, Landau and Smith were joined by another Australian pro, Chad Stuart, to reconnoiter the first and second run paths along the river of this bustling Australian city.
Lawyer landau was also getting used to riding on a rented bicycle, provided by Raceday Transport.
"I wanted the added of protection of these escorts, as motorists drive on the LEFT side of the road, unlike in the United States, and I wanted to ensure my safety during my first course previews. During the race, the ITU officials have told us, we must pass on the right, which is also contrary to how we compete back in the States. There have been several crashes already, on this very tight, curvy, and hilly course."   Let's hope Landau has a safe race, and has a good finish for the Stars and Stripes.