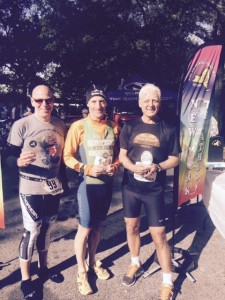 With the DUathlon World Championships a week away, Doug Landau decided to get in one final race on American soil after driving to New York to catch an international flight to join the rest of the TeamUSA.
So Landau drove from Virginia to the Big Apple to test his fitness in the New York City DUAthlon.
The race was contested in Central Park, on a hilly course with two 2- mile runs on the East Side, and two 6-mile loops around the Park. Lawyer Landau knew he had to control his effort, as the big race of the year was the next weekend in Australia.
With everyone starting together, Landau let the "whippets" take off in the uphill start. Coming into the first transition, Landau only needed 19 seconds to drop his race shoes, don his helmet, and get out on his bike.
Passing racers who did not heed his warnings, instructions, or bell, Landau moved up on the international field. The danger about which the friendly event staff had warned him regarding the bicycle course was apparent as pedestrians, other bikers, and joggers did not get out of the way!
Landau finished 10th overall, winning his age group. Afterwards, he was neither sore nor tired.
This bodes well for the World Championships in Adelaide!
For official race results visit: https://www.nytc.org/results_full.cfm?ID=275