Best Duathletes Separated by less than One Second !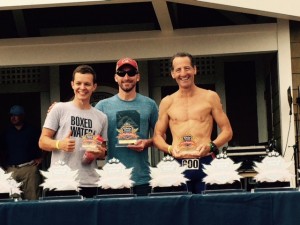 Because there are multiple waves in most multisport events, it is hard to tell who actually won until the final computer results and penalties have been posted. But today's Bethany Beach DUathlon came down to a sprint finish!
Participants were treated to great weather and the sighting of a whale just off shore.
Herndon Virginia injury lawyer Doug Landau elected to run the opening beach 1km barefoot, since he often trains without shoes. Thinking he would be lighter on his feet, lawyer Landau looked forward to getting into the first transition at the very front of the pack.
However, he was left in the dust, falling behind two dozen faster sand runners, and even after the fastest transition of the day, was unsure as to his placement.
The 30km bike course is fast, and Landau averaged well over 24 mph, passing bikers all the way to Dewey Beach, Delaware.
On the ride back, he kept passing other racers until about 5km from town, when he was passed by 2 bikers who he kept in sight all the way to the 2nd transition area. After another fast transition, Landau took off after the DUathletes in front of him, consistently passing runners over the first several miles of the 7km course past Sea Colony.
Espying the cyclist who first passed him — Ocean Cycles store manager Garrett Gooding — 25 seconds in front at the start of the run, Landau managed to close to 22, 17, 12 and then 7 seconds before passing the 28-year-old with about a mile to go. Lawyer Landau quoted Yogi Berra, and told Gooding, "it ain't over 'til it's over" and to keep up so that they could try to set a course record together.
As the duo hit the boardwalk in sight of the finish line, they sprinted past the spectators for an exciting finish.  Gooding won by less than a second; he and Landau were about a kilometer ahead of the 27-year-old in 3rd place.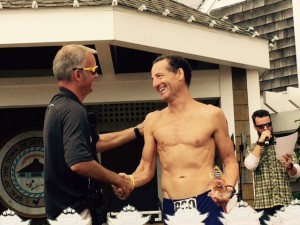 After the "photo-finish" Landau noted, "like my brother Ken and youngest daughter, Gooding had a gear I've never owned!"
The Virginia trial lawyer felt fine 5 minutes after the race, and even went into the surf to jump the waves and look for another whale.
The race director noted that the two guys on either side of Landau on the podium had a COMBINED AGE equal to his 55 years !
Today's race was a good test a month prior to the World Championships. Landau intends to continue working on his top end speed in order to represent the United States to the best of his ability. His remaining American races include the Virginia & Maryland Triathlon Super Series Giant Acorn Sprint Triathlon; the Rockettes Landing Richmond Sprint Triathlon; and, possibly a road race in New Jersey Columbus Day Weekend before flying from JFK to Sydney.