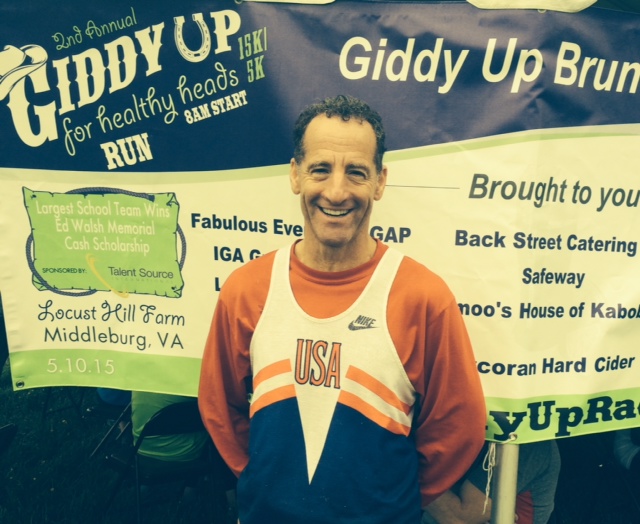 Giddy Up for Healthy Heads! Lawyer Landau Nearly Bests the Field the SECOND Time Around !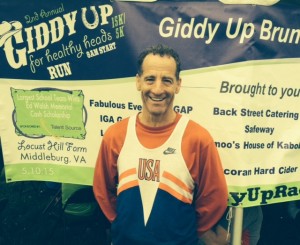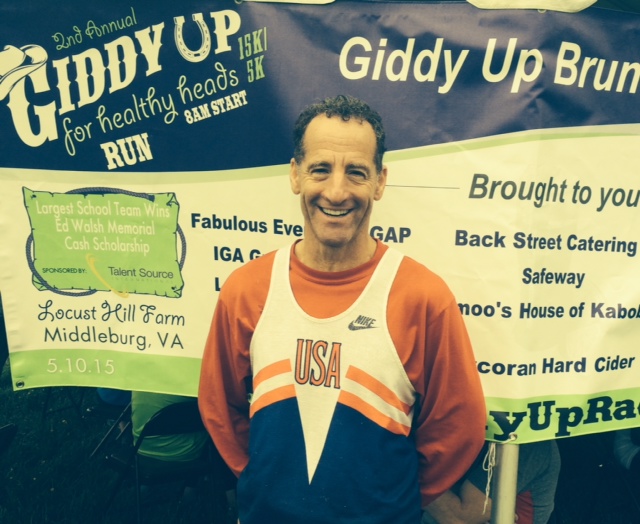 Despite giving the field a head start and having run the challenging cross country course less than a half hour earlier, Herndon lawyer Doug Landau nearly won the 2nd Annual Giddy Up for Healthy Heads in Middleburg Virginia. The off-road horse farm course helped raise funds for healthy heads, including stroke, brain tumor and brain injury awareness and research.
Why did lawyer Landau run the course twice ? He is preparing for the USAT Duathlon Championships, so running, then biking and running some more mimics the conditions he will face next month at Nationals. As the Giddy Up had a 15 km race at 8:00 AM and then a 5 km at 8:45 AM, Landau decided to run the first 5 km of the earlier race, then ride his stationary bike near the finish line until the later race was sent off, to practice his transitions and give full value at all three stages.
How did this multisport and multistate trial lawyer do ? He would have finished second overall in the first race and was 4th in the second event, winning the over 50 age group. Landau hopes to replicate this kind of workout again next weekend in Herndon and then do an actual Duathlon in New Jersey over Memorial Day weekend.
At the 2nd Annual Giddy Up Race for Healthy Heads Landau raced for Team Tyler, which won the team category. Proceeds from this event benefit brain tumor/cancer research and Dr. Linda Liau's brain tumor research at UCLA, The Help our Wounded Foundation whose mission is to improve public health by raising awareness of hyperbaric oxygen treatment and assisting individuals in obtaining hyperbaric oxygen treatment for brain injury, the National Institute of Neurological Disorders and Stroke and ongoing research, awareness and prevention of brain disease. As Doug Landau has helped clients who have sustained traumatic brain injury ("TBI") and benefited from hyperbaric oxygen treatment, he was keen to take part in these fundraising events.
After over an hour of racing, Landau enjoyed the post-race party and a glass of Loudoun County brewed CIDER! After sampling non-alcoholic mimosas, Landau opted to take home some of the Corcoran Vineyards excellent vintages. Lori Corcoran is wonderfully knowledgeable about ciders, and cider fan Landau learned Loudoun has 45 wineries, and just one Cidery! Hosted by the Brad Kaminsky Foundation, the HOW Foundation of South Florida and KatMac Events, these races wound through the beautiful Locust Hill Farm trails, fields and paths in Middleburg, Virginia.  The Landaus hope to do these fun Mothers Day events next year.