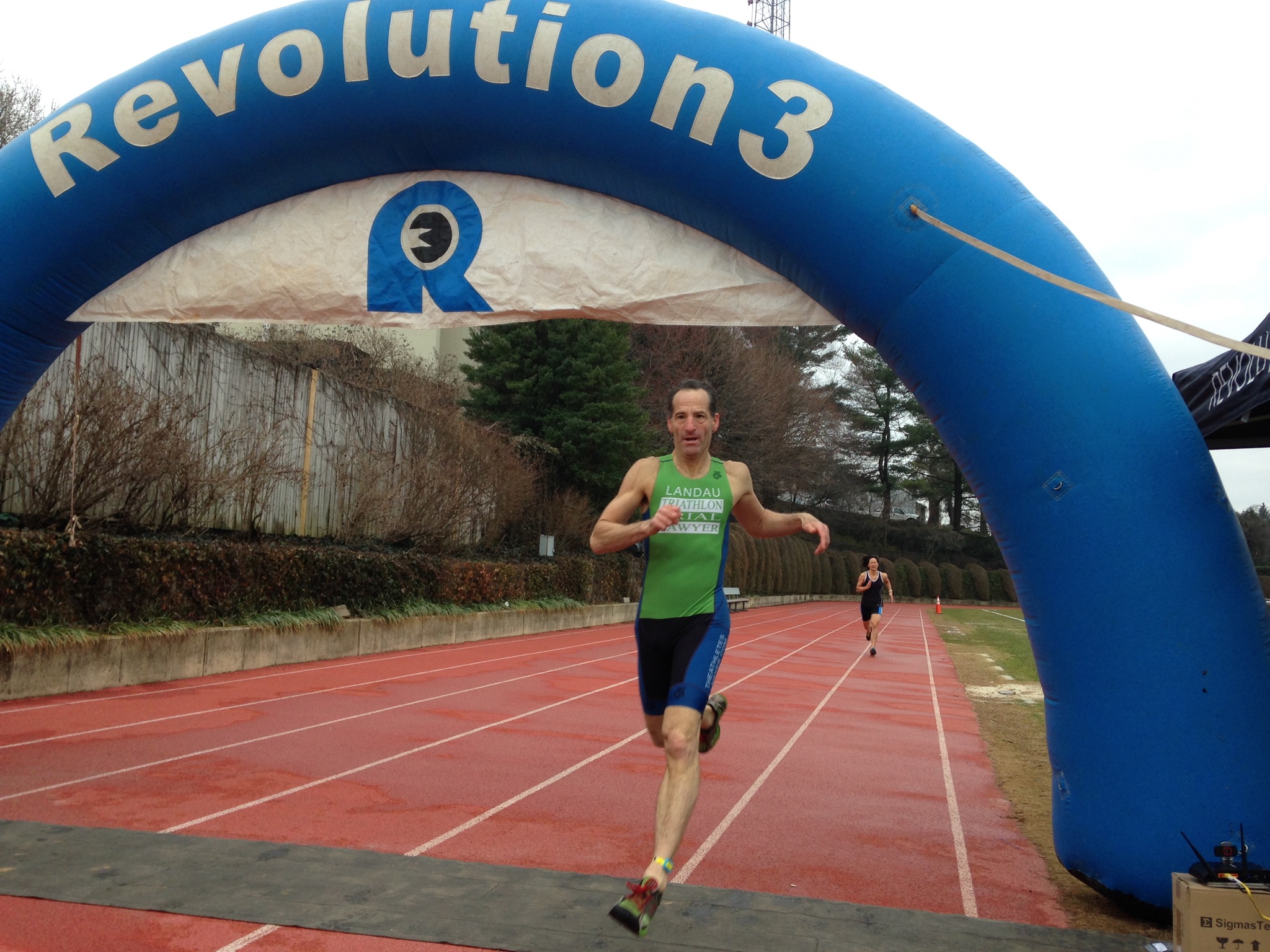 Mid-Atlantic Multisport Season is Underway – Summit & Expo Draws the Best DC, Maryland & Virginia Triathletes to Compete, Learn & Improve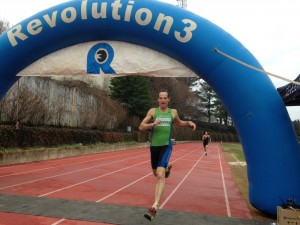 Running bare footed around the American University track in his wetsuit Saturday morning was how Herndon triathlete Doug Landau started his jam-packed weekend !
Lawyer Landau had entered the "REV3 Transition Competition" to see if he had gotten rusty during the "offseason." This was just the first of several competitive events held at TRI-MANIA Washington DC, held this year at the campus of American University. Developed in partnership with USAT Mid Atlantic, the TRI-MANIA Summit and Expo offered the area's best Triathletes, DUathletes, and others educational seminars, athletic competitions, and the chance to check out (and purchase) the latest bikes, nutritional supplements, and other sports gear.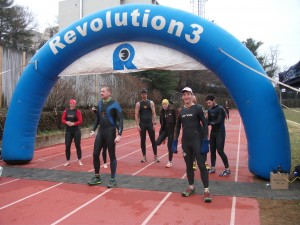 Landau signed up for the Transition Race, since he often has the best times transitioning between the swim and the bike, and the bike and the run sections of the triathlons he competes in around the country. However, he has never competed in just a transition race !
This unique track event was designed specifically for triathletes. All participants were to run 1/4 mile on the AU outdoor track, but here's the catch… all athletes needed to start the race wearing a wetsuit and swim cap and in bare feet — no shoes.  On "GO!" athletes were to run about half way around the track to a transition area where they stripped off their wetsuit, slipped on their shoes and completed their loop on the track.  This was a timed event and the top 3 males and females were be awarded prizes.  Adding to the fun and excitement, Mike Reilly, the Voice of Ironman, was the race announcer.
How did lawyer Landau do ? Despite the cold, he won his heat, but was several seconds off the winner's time of 1:30. "Rookie mistakes and fighting with my wetsuit cost me the win," said Landau, who completed the circuit in 1:33 and then cheered for the relay teams.
More importantly, Landau attended the educational programming, including presentations by doctors, physical therapists, Olympic Athletes, and top National Coaches.  "The Future of Sports Medicine: Non Surgical Solutions for Chronic Triathlon Injuries" was of particular interest to Landau, as was his friend and exercise physiologist Ken Mierke's presentation "Training by Heart Rate and Power: Managing Workout Intensity for Optimal Efficiency." In order to get better in the swim, the Landaus attended 4x Olympian, Gold medalist and USAT Hall of Famer Sheila Taormina's talk, and Mrs. Landau got in the AU pool for a Total Immersion swim clinic!
The Landaus also visited with the friendly folks who host the Virginia & Maryland Triathlon Super Series events, as Greg Hawkins and his crew have an exciting line-up of races and other events planned for 2015. Landau noted that, "This annual event should be on every multisport athlete's calendar. You can learn from the best coaches and competitors, sample a wide range of sports products, and visit with the folks you see at all the races."