Herndon Turkey Trot – Running LEGALLY on the Grass!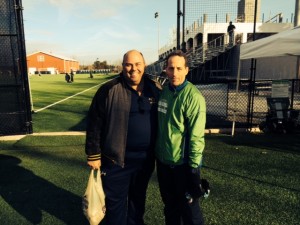 The annual Turkey Trot at the Herndon golf course allows runners of all shapes and sizes to run where they are usually not allowed.
This fact —  and the late afternoon start — make this race a Herndon hometown favorite.  In addition, runners bring cans of food and old sneakers during this giving time of year.
This fun running event is only blocks from the Landau Law Shop, so Herndon attorney Doug Landau takes part most every year. This year, prior to running, Lawyer lawyer met with Pittsburgh, Pennsylvania co-counsel David Brumfield, whose son was playing in a lacrosse tournament in Leesburg, Virginia.  Landau and Brumfield are working together to help an Italian model who was injured in transit at Dulles International Airport in Loudoun County, Virginia.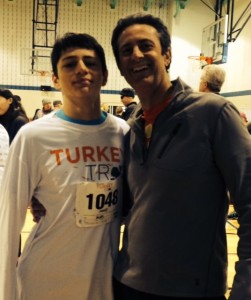 After Landau watched the lacrosse match, he hastened back to Herndon in order to run this cross-country 5K.  There were a number of father-and-son and mother-and-son pairings, and Landau finished behind the Rivertes, shown in the photograph at left.
Averaging a little over seven minutes a mile, Landau was pleased with his performance, and the opportunity to use the golf course here in the town of Herndon.