First Triathlon of the Year Results in Age Group Win for Lawyer Landau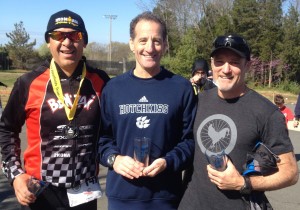 Always honing his skills for all races (and all cases !), Herndon Triathlon Trial Lawyer Doug Landau continues to build on his 2014 Running and DUathlon success. The Westfields Sprint Triathlon started at Fairfax County's Cub Run Recreation Center and ended at the Westfields High School in Chantilly, Virginia. Landau was apprehensive, as last year 30 degree temperatures greeted the athletes, and he could not feel his hands on the bike or his feet on the run (see 2012 post)
Race Director Ina Nenninger of TriItNow had plenty of terrific volunteers and the weather was warmer. After 300 yards in the indoor pool, Landau did about 20km on the bike, thanks to a wrong turn, but managed to keep the other racers from successfully passing him in the first 2 events and transitions. After battling Larry Hutchinson on the bike course, Landau was passed by his speedy 27-year-old friend on the Chantilly trails. Hutchinson finished 4th overall, after posting the 2nd fastest run of the day. Landau was once again 10th overall, winning the 50-59 age group, with a time 5 minutes faster than last year ! He had the 25th best overall swim, 16th bike ride and 8th fastest run. As usual, lawyer Landau had some of the fastest transitions, despite not being able to remove his bike shoe because of cold fingers and toes.
Once again, this fun, local race supports an excellent charity. This year's beneficiary is the Ulman Cancer Fund for Young Adults; a leading voice in the young adult cancer movement, working at a grassroots level to support, educate, connect, and empower young adult cancer survivors. Full 2014 Westfields Sprint Triathlon race results here.
Lawyer Landau's next triathlon is not until the Reston Sprint Triathlon June 1st, with several multi-sport races each summer month thereafter.  This coming weekend is the Annual Shenandoah Apple Blossom Festival 10km road race and Grand Feature Parade.  The Landaus will enjoy this wonderful bit of Americana after trying for another Age Group Award and a good early season 10km time.
Any Winchester, Front Royal and Strasburg area clients are welcome to contact the office if they would like to meet with Mr. Landau closer to home after the Saturday morning road race or during the afternoon parade.