Podium at First Multisport Race of the Year – After 6 Month Hiatus, Lawyer Landau Lands on Top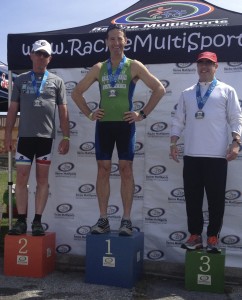 Usually Herndon triathlete Doug Landau would have many miles in the saddle outdoors before the first multisport race of the season. But with only Thursday night's Reston Bike Club ride and a winter's worth of indoor CompuTrainer classes at HPC under his belt, lawyer Landau was pleasantly surprised with his performance at the Hagerstown DUathlon Saturday morning. On April 1st Landau got his clearance from the Fairfax Family Practice Concussion Center. Prior to April, he had avoided riding his bike and inning outside on the roads. While he put in many hours in the pool, running and swimming, weight room, soft turf fields and snowy trails, he only ran on hard surfaces in well-monitored road races. This athlete attorney's patience and careful recuperation is paying dividends. In addition to a number of running race podiums this winter for age group, masters, grand masters and overall prizes, it looks like lawyer Landau is returning to his winning ways in multisport competition.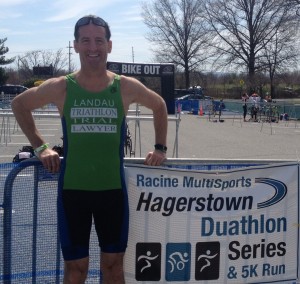 Having ridden his bicycle for the first time just once this week outdoors since his double concussion just prior to the USAT DUathlon National Champiomships last Fall, Herndon triathlete Doug Landau lined up at this Maryland race looking to see where his fitness coming off the bike would take him. The Racine multisports event took place in and around the Marty Snook Park, and had a Run-Bike-Run format. The Racine folks did an excellent job with coordinating a 5k, kids race and the Duathlon on a gorgeous spring day. While Landau was breathing harder than usual during the first run, where he was passed by over a third of the field, once he got on his bike, things seemed to go better. Passing a number of athletes, the Herndon injury lawyer was able to finish both runs in under 7 min./mile pace and the bike faster than 20 mph. Complete results click here.
He ended up winning his age group, and felt so good afterwards, that he and his wife went biking in DC to see the cherry blossoms ! Landau will be taking a fortnight off from racing, next lining up at the Westfields Triathlon, where he won prize money last year in freezing conditions. He hopes to better his time, overall placing and even stick around for the awards ceremony this year !