Herndon Elementary School Students Get Free Bike Helmets From Lawyer Landau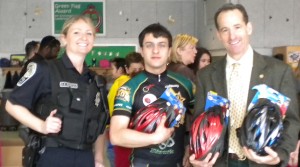 Returning to Herndon Elementary School, the Landau Law Shop team once again worked hard at "putting lids on the kids." Talking to 6th grade students, Doug Landau, of the Herndon law firm ABRAMS LANDAU, Ltd., explained that without head protection, a fall from a bike or accident with a car could have long-term impact. Bringing models of skulls, brains and actual helmets that had been in crashes, lawyer Landau's audio-visual and hands-on presentation prepared the 6th graders for their helmet fittings this morning.
Members of the Herndon Police Department, the George Mason University Bike Club and even Town of Herndon Mayor Lisa Merkel helped fit each student to their new helmets. Safety information was included with a carry bag, so that parents could learn about bike safety at home after school.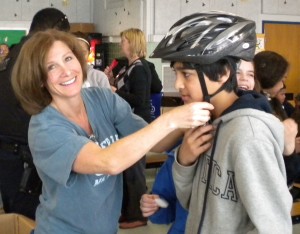 Melissa Landau told the students that if they grow out of these helmets, or are in an accident and the helmet is damaged, ABRAMS LANDAU will get them a new one. All the Herndon injury law firm needs is the damaged or outgrown small helmets with the label given to each student. The Landaus hope that these annual school educational programs encourage Fairfax County students to ride, blade, scooter, skate and travel safely on the roads and bike paths. Tomorrow, helmets will be distributed at Rolling Ridge Elementary School in Sterling, Virginia. This Loudoun County public school was the site of a very successful bike safety educational program last year.
If you know of a qualifying school that would benefit from this program, underwritten in part by the Virginia Trial Lawyers Foundation, please contact the ABRAMS LANDAU law firm via e-mail or call (703)-796-9555.