Family Bragging Rights Settled at the Reston Town Center Leprechuan 5km Run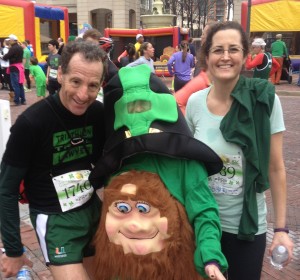 Ever a competitive family, Lisa Landau Carnoy came down from New York City and agreed to do a race her older brother signed her up for the very next morning. The Lucky Leprechuan 5 km was just down the Reston Parkway, on the other side of the Dulles Toll Road, with temperatures in the 40s.
So who was better, the former Columbia College and Dwight Englewood track team member who finished 58 out of 1028 women (top 5.6%) or her brother the Herndon lawyer (who ran at The Hotchkiss School, Boston University and the University of Miami School of Law) who was 35th male out of only 602 (top 5.8%) and had the "home course" advantage ?
The folks at Potomac River Running put on another excellent race for almost 2,000 participants at Reston Town Center. There were games and races for kids, food, drink, plenty of port-o-johns, accurate mile splits and keen competition.  Lawyer Landau managed to run 20:30 for an average pace of 6:36/mile, to cop the age group runners up prize. Click here for full results.
Because of a previously scheduled debate with noted Reston domestic relations lawyer Brian Hirsch, the Landaus left the race almost immediately after finishing, so that they would have time to shower (with soap!), before taking the stage back in Herndon.
Next weekend, Landau will be appearing on stage at the Triathlon Expo at Georgetown Prep in North Bethesda, Saturday, March 22, 2014. At the DC Tri-Mania Summit and Expo, lawyer Landau will have an information booth and speak at the end of the seminars and clinics. His topic ? "Lawyers, Guns & Money; Tools for Avoiding Legal Potholes for Athletes."