Sightseeing "on the fly" in Port of Spain's Queens Park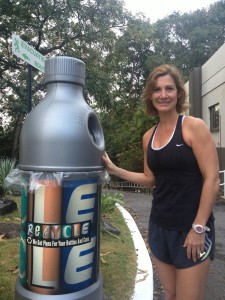 The Trinidad & Tobago Marathon weekend of racing made for hot times in Port of Spain ! Racing around Queens Park Savannah, Doug and Melissa Landau got to see: the Trinidad President's house, Botanical Gardens, National Zoo, Whitehall, the impressive mansions, the national Arts Center and athletes from all over the world. On the flight from Miami International Airport to Trinidad, the Landaus sat with a half dozen Marathoners from Japan as well as "Trini" ex-pats. The Landaus opted for the 5km. event, which started at 4 in the afternoon. Just prior to that race, which was one lap around the park, there was a schools 4×1 km. relay. Some of the racers from that event took part in the 5 km., and some finishers from the 5 km. took part in the half and full marathons the next day.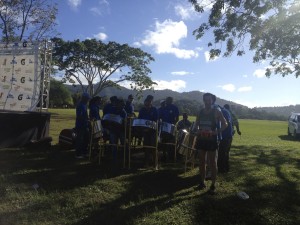 Race organizers allowed slower long distance runners to start the marathon at 3:30 AM, rather than the official starting time of 5:30 AM. While normally preferring the half marathon distance, Melissa Landau opted not to run the 13.1 miles Sunday as Trinidad is one hour ahead of Eastern Standard Time, and this was to be a hot weather "vacation" ! The rolling course took both Landaus much longer than they predicted. Both were 4th in their respective age groups, with Doug Landau finishing in the top 10% overall despite giving full value the entire way. After weeks of freezing cold temperatures in Northern Virginia, the 80 degree heat and humidity may have had an effect, "but no excuses; I ran hard – the competition was just very fast"  he added. There were runners from Kenya, Canada, Jamaica, Guyana, Japan, and all over the Caribbean. Click here for complete results for all 4 races.