Getting Lost is Just Part of the Adventure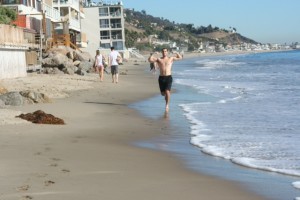 Having just purchased RoadIDs for my family, an LA Times article  on several bicyclists who were lost in Bear Canyon caught my eye. The four mountain bikers who went missing Sunday in Angeles National Forest have been found alive.
The cyclists were spotted in the Bear Canyon area by a search helicopter and were "lost but not injured," said L.A. County Sheriff's Lt. Angela Shepherd. It was the quartet's first time on this trail, and the group was ill-equipped with just their camel packs and t-shirts to handle the elements overnight in the forest, where temperatures have been in the mid-40s.
I almost had a similar experience. During a long, slow run in Bell Canyon in West Hills, I thought I was doing well by noting the position of the sun, keeping on the soft trail and wearing my Newton running shoes (which leave a unique foot print). However, upon my return, I was distracted and missed a fork in the trail and went significantly off course. Even with my mobile phone, I was disoriented and had had no water for over 2 hours in the California sun. Luckily, another distance runner came to my rescue. He was a local who knew the park trails and how to get me back to the Las Virgines parking lot, where I had started (and my ride awaited me with water, a protein shake and a towel). While I had been a race prize-winner at Los Virgines, this experience reminded me of several safety precautions a trail runner should always take:
Let others know where you will be going & how long you expect to run, bike, hike, etc.
Wear a RoadID, dog tag, or similar (non-electronic) identification on your body.
Take water or other liquids in sensible amounts (or have caches along the route).
Familiarize yourself with a map, or take a map, GPS or other navigation aid.
Note major landmarks (i.e., rivers, mountains, oceans, skyscrapers, etc.) and the position of the sun.