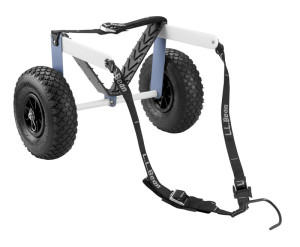 L.L.Bean's Deluxe Packaway Boat Carts (pictured left) have been recalled due to an injury hazard caused by the potential for the plastic tire rims to burst if the cart's rubber tires are over-inflated.
These carts are used to haul canoes and kayaks in and out of the water.  If you have purchased one of these carts — sold in L.L. Bean stores, catalogs, and online between March 2012 and June 2013 for about $100 — contact L.L. Bean (by phone (800) 555-9717 or online at www.llbean.com) for new instructions and psi warning stickers to put on the wheels.  Do not add air to the tires before obtaining the new instructions, lest your wheel rims burst and you are injured by flying plastic!
More information can be found here.  If you or someone you know has been injured while using a defective product and there are questions as to what laws apply, email or call Abrams Landau, Ltd. at once (703-796-9555).