Warrenton Chestnut Forks' Sprint Triathlon Decided by SIX Seconds !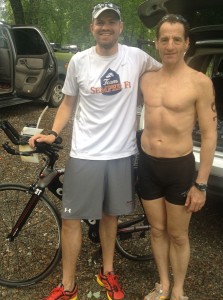 The winner of the inaugural Chestnut Forks Athletic Club Sprint Triathlon  held this morning in the Warrenton Lakes area was decided by only 6 seconds !  Competitors swam 400 meters in Chestnut Forks' very own swimming pool, then took on a very challenging 21 km  bike course and finished up with another 3.3 "rolling" miles on foot. Benefitting the Northern Virginia Therapeutic Riding Program ("NVTRP") multisport athletes got to test their mettle against a course that took top athletes well over an hour to complete. The mission of the Northern Virginia Therapeutic Riding Program is to provide equine-assisted activities to children and adults with disabilities, youth-at-risk, military service personnel, and their families in an inclusive, community setting.
Chestnut Forks' pool was cold, but athletes appreciated having their own lanes for 5 minutes, before the next wave joined the fray.  Race Director Langdon Harris Johnston and her wonderful volunteers has marked the entire bike and run courses, starting from the Chestnut Forks Tennis and Fitness Club and covering some of the scenic Eastern Fauquier County roads.  This race even had teams, childcare, post-race cool-down in the pool and friendly camaraderie as demonstrated on its FaceBook page.
In the second heat, CAF Operation Rebound athlete Jose Ramos against Triathlon Trial Lawyer Doug Landau.  Swimming side-by-side, Ramos came out of the pool 4 seconds ahead of Lawyer Landau.  During the bike leg, the Herndon injury lawyer had the best split at 40:22 to Ramos' 42:10.  On the run, the Herndon disability lawyer ran down the athletes from the first heat and teams in 23:38.  But Ramos, never giving up, as is his trademark, ran 21:48 to win by 6 seconds in 1:11:38 !!!  A prior post introduced readers to Ramos incredible story and Landau hopes to cross paths with this decorated multi-sport and military veteran.  ABRAMS LANDAU, familiar with equestrian therapy for disabled clients hopes to be allowed to help with next year's fund-raising race. This is an event that will only grow in popularity.