Florida Racing Nets Another Win for Lawyer Landau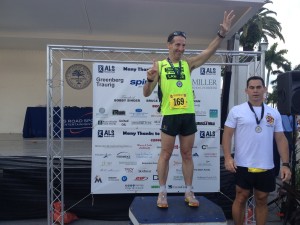 The Annual Coconut Grove ALS races and Walk for Lou Gehrig's Disease enabled Triathlon Trial Lawyer Doug Landau to test his fitness on his former South Florida stomping grounds.  Landau and his University of Miami Law School running buddies used to race in the Grove and throughout Dade and Broward Counties. The 12th annual ALS athletic event gave runners and walkers a chance to experience vibrant and picturesque Coconut Grove as the sun is coming up. Race proceeds are allocated to assist patients in the tri-county area living with ALS. Working closely with the medical community, the race has helped people with ALS obtain the proper care and equipment that they would not otherwise have been able to afford.
Landau again won his age group in the 5km. despite a lackluster time and 27th finish out of over 700 finishers.  Mrs. Landau ran the 10km despite late celebrations for their daughter, who graduated from "the U" the day before and gave the commencement address. Lawyer Landau promises to work harder on his fitness in order to bring his 5km times down below 20 minutes.