Hit-and-run of Cyclist Results in Guilty Plea for ex-D.C. Cop
The helmet camera video of a cyclist being run off the road by a red truck driver was viewed with anger and apprehension by many of us in the DC Metro area cycling community.  I had written about this incident a year and a half ago and only now is the perpetrator being brought to some justice.  "Some justice," because it seems to me the sentence was too lenient.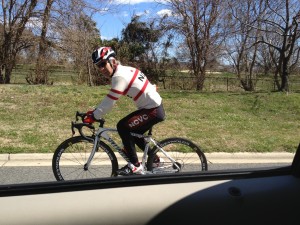 The facts are as follows: John W. Diehl, 57, a retired Washington, D.C. police officer plead guilty in a hit-and-run with a bicyclist that was caught on the biker's helmet-mounted camera. According to news reports, Diehl plead guilty Tuesday to leaving the scene after a collision and destruction of property. The part that I find hard to fathom as a former prosecutor is that the plea deal allows Diehl to withdraw his guilty plea if he completes certain conditions, including anger management counseling. On Aug. 31, 2011, according to prosecutors, Diehl pulled his truck alongside the victim and cursed at him on the 3000 block of Rhode Island Avenue NE.  Diehl then changed lanes despite the fact that there was not any traffic that would have caused him to do so.  This unsafe truck driver then clipped the cyclist, causing the victim to crash. Diehl kept on driving as the biker lay on the ground.  That it took so long and the penalty was so light are both perplexing to me. If you or someone you know or care for has been injured as the result of a car, truck, bicycle or motorcycle crash and there are questions about what laws apply, e-mail or call us at ABRAMS LANDAU, Ltd. (703-796-9555) at once.