"Safety is First" at Reston Virginia Triathlon: Lake Audubon Swim Cancelled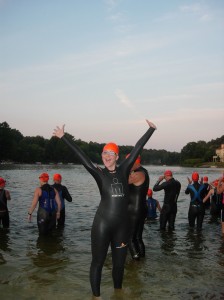 Due to the torrential rains that have struck Northern Virginia, the dedicated directors of the annual Reston Triathlon have decided to eliminate the swim for only the second time in the popular multisport event's history. The following was posted on the Reston Triathlon Association's web site:
Swim portion of the 28th annual Reston Triathlon has been canceled. Our lake official has been checking the lake since yesterday and has come to the decision that in the interest of safety it is not safe to swim in the lake…there is widespread disappointment but "Safety Is First."

All racers will be notified by email of the cancellation and of plans for a replacement run as soon as the board has met to determine the details.
Triathlon Trial Lawyer, All American Triathlete and Virginia Triathlon Series ("VTS") race sponsor Doug Landau adds that racers should also be mindful of debris on the roads when cycling, and perhaps "preview" the course once again since the storms have ended. Tight turns with washout, leaves, bark and other organic matter on the pavement and an early morning start can all contribute to less traction on the road surface. "Let's all bike safely – the Reston Triathlon race directors cannot sweep every centimeter of the race course, and road flooding requires extra vigilance on the part of all participants." adds Herndon Reston lawyer Landau. "In light of these changed conditions and as I have at least 2 more VTS competitions this season, I am not going to be putting the 'pedal to the metal' Sunday. I encourage all participants to enjoy the race, the shwag and the comraderie and ride safely."