Tom Curcio battles back after bad bike crash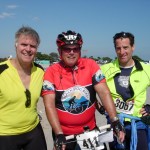 Friend and co-counsel Tom Curcio of Alexandria suffered a massive fracture in a bike crash in Old Town Alexandria. Tom had been a regular at the Virginia Trial Lawyers fun runs, and rode with Doug Landau of the Herndon law firm ABRAMS LANDAU, Ltd. at the Seagull Century in Salisbury, Maryland. When the Landau Law Shop was on King Street, in Alexandria, Virginia, Doug would bike all the way from Herndon when the weather was good and conditions were safe. Curcio likewise would bicycle commute from his home near Mount Vernon. Curcio's accident happened just blocks from his office, at the railroad tracks near Oronoco Park, where Landau would hold the "F.A.B. 5km" running race to raise funds for the Foundation of the Alexandria Bar Association.
Railroad tracks, while often set below street level in urban settings, have deep groove that pose an especial risk of harm to cyclists. Grooves at railroad tracks and on bridges and gutters can "catch" bicycle tires and throw a cyclist down to the cement. The unforgiving pavement can break bones, tear tendons and shatter skulls if no helmet is being worn. Tom Curcio is a fighter in and our of the court room. Working through painful physical therapy, Tom made a good recovery and is back biking. He is also back helping injured victims and winning substantial cases. Tom and Doug are shown here at the VTLA Annual Convention, were Tom is a Vice President of the Virginia Trial Lawyers. Everyone at the Landau Law Shop wishes Tom continued recovery, and we home that he will some day ride the W&OD Trail from our building in Herndon.