Virginia Trial Lawyers brave the snow, cold and rain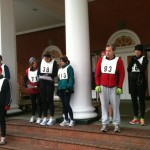 Today's Virginia Trial Lawyers Association annual run was greeted with cold, rain and snow. Nevertheless, Melissa, who is ther "Chancellor of the Exchequer" for the Herndon law firm ABRAMS LANDAU, Ltd., and a dozen others braved the elements, hilly course and cross country trails to start day #3 of the annual VTLA Convention at The Homestead. The last several years TriathlonTrialLawyer Doug Landau has been a VTLA volunteer, as he has raced in other local and state competition, such as the Virginia Duathlon (Surry), the Angels Triathlon (Lynchburg) and Williamsburg Jamestown area Dismal Swamp running race.
In anticipation of racing at venues that will take the traveling sports injury lawyer to Strasburg, Mt. Olive, Woodstock, Spotsylvania, Mt. Hebron, Bumpass and Winchester over the next 4 weeks, Landau opted to "train through" the weekend. Doug Landau's 2011 Spring & Summer racing schedules will be posted April 13th, so that clients, friends, former clients and their families can visit with and cheer on their active athletic attorney. Landau admits that having clients at the races, just like having them at his cases, helps him win !