Norman Landau Cup – VTLA Golf Tournament Only for the Brave
or the crazy ! This was no "April's Fools" but real white precipitation !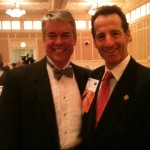 With snow flakes falling in South West Virginia, the lawyers, judges and legislators who signed up to play in the Annual Norman Landau Cup at the Virginia Trial Lawyers convention had to not only contend with a challenging Homestead golf course, cold and wind, but the possibility of losing their balls in the snow ! There was scant accumulation, but while jogging today in order to familiarize myself with tomorrow's fun run course, where I would serve as a race volunteer, I noted it was hard to see the balls being hit when the flakes were falling ! Hopefully, the foursomes will wait for those ahead to move out of danger, yell "fore" and wear gloves with dry grips. Golf course injuries are no laughing matter, and wet, slippery surfaces increase the danger of golf cart crashes, as I have written in prior posts. No injuries were injured, and the top teams were heartily cheered at the closing banquet. When their fingers thaw out, they hope to shake the hands of all the well-wishers.