New Jersey State 8k Road Race Championship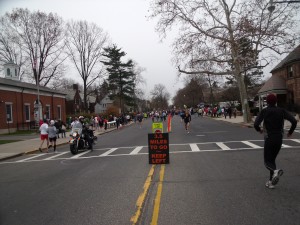 The Ashenfelter 8K Classic (A8K) is a United States Track & Field-NJ Championship Road Race which is open to everyone… walkers, joggers, runners and racers. The race is produced by the Glen Ridge Educational Foundation. This traditional Thanksgiving Day running event will be held on Thursday, November 25, 2010. The 8K (4.97 miles) USATF-NJ MASTERS 8K CHAMPIONSHIP has prize money awards (Age Graded, Male/Female, for USATFNJ Members Only). There are special mugs for finishers in the Top 100, male and female. Since 2000, the top 100 male time has dropped from 35:54 (7:13/mile) to 33:43 in 2005 (6:47/mile) to 32 minutes in 2008 (6:28/mile average pace) ! Doug Landau of the Herndon Law Firm ABRAMS LANDAU, Ltd. was still heading out when he saw the leader, sporting a Princeton Tiger singlet, heading for the finish line in under 25 minutes ! It's a very competitive field.
To date, the Ashenfelter 8K Classic has raised over $100,000. Since 2005 the main beneficiary has been The Glen Ridge Educational Foundation, a not for profit 501(c)3 organization. In addition, liek several other Thanksgiving time athletic event that Triathlon Trial Lawyer DOug Landau has participated in , this championship event was collecting used, smelly running shoes ! Joggers, walkers and runners could donate old or un-used athletic shoes to soles4souls. Collection boxes were available at Fleet Feet Sports, Murdoch Shoes, and at the race Registration.