Reston Town Center Anthem Great Pumpkin 5km – the biggest race in town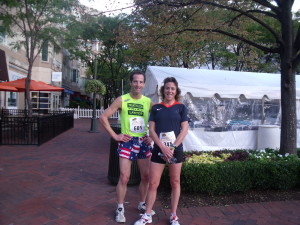 There were so many runners, joggers, walkers and families that even organizers needed several starting lines to accommodate everyone ! The Anthem Great Pumpkin 5k was staged in conjunction with the Greater Reston Chamber of Commerce Oktoberfest which featured local restaurants, amusement rides, live entertainment and the Annual Pumpkin decorating contest!!
Reston Herndon injury lawyer Doug Landau was the runner up in his age group with a time of 20:24. The ABRAMS LANDAU, Ltd. triathlon trial lawyer was 51st out of 1,393 finishers.
The Race beneficiary was the Inova Heart and Vascular Institute which provides the full spectrum of diagnostic and interventional cardiac services as well as electrophysiology, cardiac and thoracic surgery including minimally invasive surgery, heart and lung transplantation, and implantation of artificial heart devices. The Institute also offers prevention and risk reduction through classes and cardiac and pulmonary rehabilitation.