National Triathlon Championships – Tuscaloosa Alabama
What did Doug Landau do upon arrival in Tuscaloosa Alabama for the 2010 USA Triathlon Championships ? He checked out his bike, checked out the course and checked into his hotel.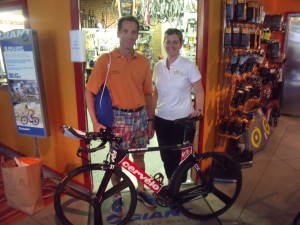 VeloCity Bicycle Shop was where the Triathlon Trial Lawyer had his bike shipped from Herndon Virginia. With air travel becoming more difficult for bikers, ground transport is an economical and safe alternative. Landau's Kestral race bike was smashed in transit returning from the National Championships several years ago, despite the crash injury lawyer's having placed it in a hard case bike box that had been flown to international competitions ! The friendly VeloCity crew did an excellent job of unpacking, re-assembling and tuning up Landau's Cervelo racing bike. Their pre-race safety check and the care with which they looked over the many athletes' bicycles made for a safer race and reduced bike crash injuries out on the course.