Dr. Delaney to the rescue
Fire and rescue vehicles came to the aid of an injured bicyclist who was involved in a crash with a motor vehicle during this morning's Reston Triathlon. As the participants turn left on South Lakes to pedal up Ridge Heights Road toward Langston Hughes Middle School to get to the transition area at South Lakes and finish the bike portion of the race they were confronted by the sight none of like to see – a fallen athlete. In this instance, a motorist apparently pulled out into the Ridge Heights Road as a cyclist was coming up toward the schools.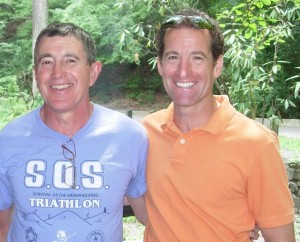 The cyclist and the car collided. According to an FABB post, the biker was unconscious and, after lying immobile in the road, was taken away by ambulance.
Dr. Allen Delaney of Commonwealth Orthopedics, along with his wife and physical therapist Mary Delaney, was a spectator at today's triathlon. According to athletes who had finished the race, the good doctor was at the cyclist's side, lying with him in the street until emergency vehicles arrived. Delaney, a distinguished endurance and multisport athlete himself, returned to the finish area after the athlete (who later regained consciousness) was taken from the scene, in order to cheer on other athletes he advises and trains as a coach with RehabtoRacing. Everyone associated with the Reston Triathlon hopes the injured bicyclist recovers quickly.