Cyclist's accident case saved after original lawyer suspended
What happens when an injured cyclist hires a lawyer who says he can handle a personal injury case and that lawyer fails to take steps to advance the injured athlete's case, and in fact becomes suspended from the practice of law just as the 2 year deadline approaches ?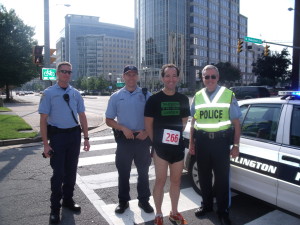 This recently happened at ABRAMS LANDAU, where we get a large and sad number of calls every year from injured victims who retain lawyers who should not be handling personal injury cases. Often these lawyers are general practitioners who will not invest time, effort or money in serious injury cases, "friends of a friend," and advertising charlatans who never go to court. While we counsel callers to try to work out their differences with the lawyer they have got, there are some instances when this is impossible, and they make a change. For example, when their present lawyer is retiring, or has passed away, then certainly we will meet with them. However, in a case such as this where the deadline was approaching and the Leesburg lawyer supposedly handling the biker's crash injury case would not return letters, phone calls, e-mails or faxes, then immediate change of counsel was necessary. When Leesburg bike accident lawyer Doug Landau called the Virginia State Bar to enquire as to this lawyer, he was advised to tell the plaintiff to call the Bar's office. Apparently, the lawyer originally retained was on a Suspension for Failure to Comply with a Subpoena, effective June 9th of 2010. This was just published, after the 2 year time limit had run, in the Virginia Lawyer Register.
Luckily, the ABRAMS LANDAU law firm filed the lawsuit within the time limits, and is now proceeding to get medical records, investigative reports, Traffic Court transcripts and other items necessary for the successful prosecution and settlement of a serious bike crash injury case. Because there are strict time limits for claims against drivers who run over or crash into cyclists, if you or someone you know has been injured by someone else's negligence or fault, e-mail or call us at ABRAMS LANDAU, Ltd. (703-796-9555) at once.