Triathlon Trial Lawyer Landau ends season with win, Biathlon course record at South Run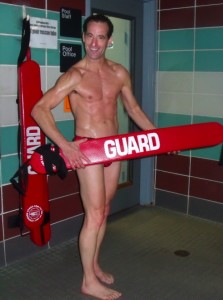 After a "dry" season in 2008, Virginia injury lawyer Doug Landau ended his multi-sport season the same way he began it – with an overall win ! Normally contested at the Madeira School campus, the Childhood Brain Tumor Foundation annual biathlon moved to South Run in Springfield and lengthened to a 500 yard pool swim and a 5 mile run. The 2009 Dan Fiduccia Fall Biathlon was held at the South Run Recreation Center, one of Fairfax County's newer athletic facilities, at 2:00 today.
While Columbus Day weekend was devoted to his youngest daughter's soccer tournament in Bristow, Virginia, Landau was able to compete in the McLean 5km.Saturday morning before his daughter's first game. Today, after her 3rd game ended before noon, and she was informed that her team was in the finals at 3:45, the Triathlon Trial lawyer jumped into his car and drove to the race venue, arriving three minutes before the start. Because Landau was not in the first heat, he was able to warm up and stretch after a difficult drive. In the 2nd heat, the Masters Triathlete was lapped several times by talented high school swimmers. But a lightning fast transition and hard pace at the start of the run enabled the sports injury lawyer to reel in many of the athletes who had passed him so effortlessly in the pool. The run around the lake incorporated cross country terrain, rather than roads. As Landau trains on turf, trails and dirt, the running part of the race played into his hands (or feet !).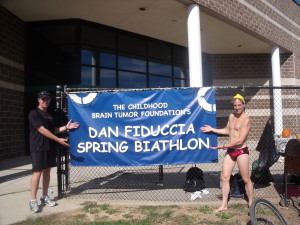 By the end of the run, Landau had passed many of the racers without being passed himself. Often running alone in the woods, Landau kept his heart rate in the 170s in order to keep his speed up. His 37:36 (8:20 for the swim) is the course record for the Childhood Brain Tumor Foundation Fall Biathlon ! More importantly, after he finished, he dashed through the showers, changed, got back in his car so as to see his daughter and her team in the Finals of the "Battlefield Classic." The CYA Blast ended regulation play in a 0-0 tie. Then after a double overtime period, the game was still a draw. Penalty kicks ended 3-3, and the game went to a "sudden death shootout." Landau, his wife, son and all the grandparents watched as the Blast won the match and the tournament in an exciting finish. The picture of the winning team was posted yesterday. Needless to say, there was no racing or soccer matches Monday, and all the Landaus got to take a day of rest.