Win All Cases AND All Races – Winning Ways for Herndon Lawyer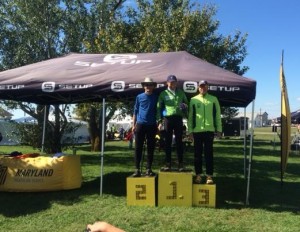 When not in court, Herndon Reston area injury lawyer Doug Landau likes to stay in shape by training for multi-sport competition.  Triathlons, which consist of swimming biking and running, are his favorite type of races, however he has won awards in DUathlon (biking & running), Aquathon (swimming & running,) and AquaVelo (swimming & biking) events.
In 2013 Landau won the Virginia DUAthlon series overall championship. This year the Dulles Airport area lawyer qualified for the DUAthlon World Championships. He also was runner-up for the age group championship in the now combined Maryland Virginia Triathlon Super Series. Landau explains, "competing in triathlons and running races and track meets enables me to stay in shape, mentally alert, and visit with clients throughout the Commonwealth of Virginia, as well as all along the East Coast."
"Once I know where I'm going for a case or a speech or other event that calls upon me to travel from the office buildings we own in the 'downtown Historic District of Herndon,' I then look to see if there is a nearby client, race, cultural site or other activity that I can do so as to be most efficient with my time and travels," notes Landau.  "That is why I publish my schedule; to enable clients to visit with me before or after a race, speech, trial or hearing, close to home and at their convenience — even on weekends !"
For Landau's current schedule clients can contact our office by phone (703-796-9555) or email.